Daughter of Martin Luther King, Jr. to speak at Wheaton College as part of the inaugural Rodney Sisco Symposium on February 5 at 6:30 p.m.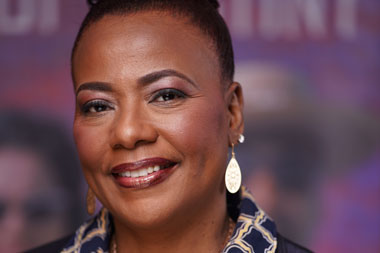 Dr. Bernice A. King, daughter of Dr. Martin Luther King, Jr. and Coretta Scott King, is coming to Wheaton College on February 5 to deliver the keynote speech at the inaugural Rodney Sisco Symposium, an annual event dedicated to diversity and equity practices. As CEO of both the King Center and First Kingdom Management, Dr. King works to further a nonviolent philosophy and methodology (which The King Center calls Nonviolence 365) in society, including education, government, business, media, arts and entertainment, and sports.
Dr. King's speech titled "A Prophet Without Honor," will headline the inaugural symposium, which honors the life and legacy of the late Wheaton College Director of the Office of Multicultural Development Rodney Sisco '84 who passed away on December 30, 2018. A question-and-answer session and a book signing will follow her talk, where copies of King's book Hard Questions, Heart Answers: Sermons and Speeches will be available for purchase.
"It is significant and symbolic that Dr. Bernice A. King is the symposium's inaugural speaker because as she is building on the work of her father, the Rev. Martin Luther King, Jr., as we are building on the work of Rodney K. Sisco," said Wheaton College Chief Intercultural Engagement Officer Dr. Sheila Caldwell. "Both were godly men who dedicated their lives to advancing the Christly traits of service, mercy, justice, and unity."
Dr. King's keynote address will follow the awarding of the second annual Rodney K. Sisco Diversity Student's Choice Award to a Wheaton faculty and staff member who work to "cultivate a grace-filled, Christ-Centered academic community where all members are recognized, loved, and respected," as articulated in Wheaton College's Christ-Centered Diversity Commitment. Last year, the Sisco family—Hasana, Jabari and Juwan—received the award posthumously on behalf of Rodney K. Sisco.
The two-day symposium, taking place Feb. 5-6, will include multiple presentations and discussions, including a lecture by V. Elizabeth Perkins and Pastor Chris Cannon on the importance of forging diverse relationships and a panel discussion featuring Dr. Daniel Hill and several Wheaton faculty and staff members on the biblical vision for Kingdom Diversity. The symposium will close with the musical production "1619: The Journey of a People" by Ted Williams III and the 3rd Dimension Performance Group.
"We designed this Symposium, in conjunction with Rodney Sisco's family, to strengthen awareness, facilitate courageous conversations, and enhance our interconnectedness as a beloved community," Dr. Caldwell said. "We believe people will walk away from the symposium with a deeper appreciation for Kingdom Diversity."
Dr. Bernice King's keynote address, "A Prophet Without Honor" takes place on Wednesday, February 5 at 6:30 p.m. in Edman Chapel on the campus of Wheaton College. The event is free and open to the public.