This blog features stories about the Wheaton College Graduate School. This week's story is about Kati Shepardson, a current student in the M.A. in Humanitarian and Disaster Leadership (HDL) program. Like many members of the inaugural M.A. in HDL class, Kati brings a wealth of previous experience in humanitarian and disaster relief to the program. In this blog, Kati shares how it all began with her own experience of Hurricane Katrina.

Kati and Katrina: The Hurricane that Charted a Student's Course
By Hannah Hempstead
"I have pretty much always had a desire to work in humanitarian relief! I can remember this being a dream as early as the age of five, when I really wanted to work in international missions."
The desire to bring humanitarian aid to those in need is nothing new for Kati Shepardson. Kati, one of the students in the inaugural M.A. in Humanitarian and Disaster Leadership cohort, explains that while her dream began in her early childhood, she had no idea that she would end up where she is today, pursuing a graduate degree with years of experience in humanitarian relief under her belt.
Though she says her vision was, and to some extent still is, to work in humanitarian and disaster relief on an international scale, her experience in the field actually began very close to home.
A native of Chicagoland, Kati was living in New Orleans and about to begin her senior year at Tulane University when Hurricane Katrina hit in 2005. After the hurricane, life would never be the same for the people of New Orleans—including Kati. Kati found herself swept into the eye of another storm: the aftermath of one of the deadliest hurricanes to hit the U.S.
"After Katrina, I remained in New Orleans, working in hurricane relief while I completed my undergraduate degree. After helping with initial hurricane relief efforts, I spent two more years working with a homeless shelter."
Kati notes that the housing situation in New Orleans was dire in the wake of Katrina, and even she experienced very transient housing situations, living in twelve different places over the span of a few years.
While working with the homeless community in New Orleans, Kati experienced what it was like to come alongside those experiencing homelessness. For Kati and her colleagues, this meant befriending, not just "helping," their homeless neighbors.
"Our mission was to provide social support, living alongside and befriending those experiencing homelessness. We couldn't do that if we were living a totally separate life."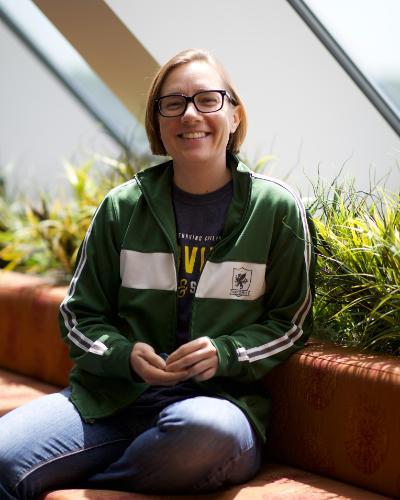 One of the most valuable lessons Kati learned in this time was to see the blessing and privilege it is to have a supportive family, church, or social group.
"The only thing separating us from our homeless neighbors is the fact that we have a support system."
When she returned closer to home, Kati still found herself drawn to working on behalf of those in need of humanitarian aid and support, working for some time as a relief caseworker at a domestic violence shelter, then moving on to the organization where she works today, Feed My Starving Children.
"I heard about a job opening at Feed My Starving Children. For a time, I worked at both places, then eventually took a full time position at Feed My Starving Children. I've now been with Feed My Starving Children for six and a half years!"
At Feed My Starving Children, Kati helps coordinate volunteers who come to help pack non-perishable food items into meal kits, which are then distributed to areas of need through larger organizational partners, such as Food for the Poor and Convoy of Hope. (*Side note: Kati adds that students looking for a small, but meaningful commitment to volunteer work will love helping to pack meal kits at the nearby Feed My Starving Children location!)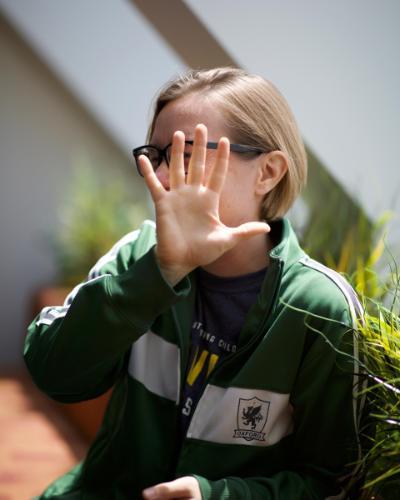 Kati's friend was the first to tell her about the M.A. in Humanitarian and Disaster Relief (HDL) program at Wheaton College Graduate School.
"When my friend sent me that Facebook ad," Kati says, "I had NO intention of going back to school. None."
But, for some reason she can't really explain, Kati found herself calling the number. She talked to Dr. Jamie Aten, the founder of the Humanitarian Disaster Institute.
She laughs, "I told him, 'I have no interest at all, but tell me about the program!' Dr. Aten was undaunted. He told me about the flexible learning option available for those who cannot or do not wish to leave their current home or work."
Once she discovered that there was a part-time and flexible learning option, the major roadblock was removed. Kati saw how much the M.A. would build on and expand her expertise, and now, one month in, she is excited to see the many connections between her work and school:
"This program is a supplement to what I am currently doing. My vocation and academic work complement each other. I love seeing my work and school integrating this way."
She hints that there may be a new season in the future, one that will fulfill her long-held dreams of working in international humanitarian relief.
"At Feed My Starving Children, I have been working stateside helping to make sure the food is packed and sent to where it is needed. But I also feel called to be on the 'other' side of the food, meeting the people I am serving. The M.A. in HDL will take me there someday."

Humanitarian and Disaster Leadership
The M.A. in Humanitarian & Disaster Leadership (HDL) at Wheaton College is designed to prepare the next generation of humanitarian and disaster professionals to lead with faith and humility, utilize evidence-based practice, and serve the vulnerable and the church. Find out more information about the M.A. program here.