The #MyWheaton blog shares first-person stories from Wheaton students and alumni.
Beyond Wheaton: Anthropology in Action
Sarah I. Han '16 graduated from Wheaton College with a degree in anthropology, and minors in biblical and theological studies and music. While a student at Wheaton, Sarah participated in the Ladder program, Women's Chorale, MuKappa, One A-Chord, and WyldLife (Young Life). She grew up in the United Arab Emirates. In this MyWheaton blog post, Sarah writes of her undergraduate research on displaced Baloch women in Al Ain, U.A.E., and her road from Wheaton to graduate school in New York.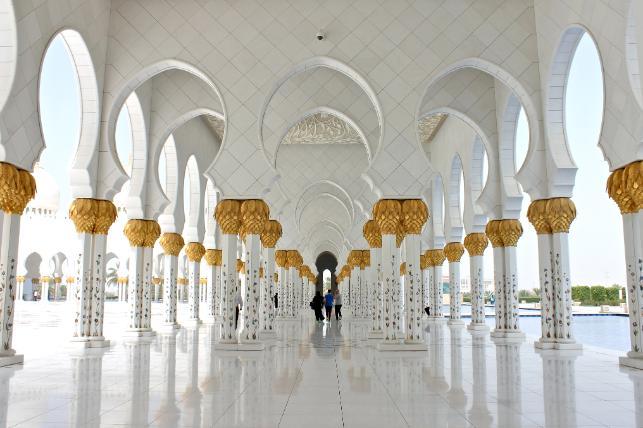 Sheikh Zayed Mosque in Abu Dhabi, UAE
1, 2, 3, 4, 5… I carefully count out the cardamom pods before making a small slit in each one and tossing them into the swirling pot of hot black tea. As the fragrant smell of chai wafts through my tiny bedroom in New York City, I am struck by the unlikely mosaic of opportunities and experiences that have brought me here.
Just a few short years ago, during my junior year at Wheaton College, I was skimming through the unending pile of unread emails between the cycle of reading and writing papers, and paused. There was an email from the Center for Global Programs and Studies (GPS), encouraging applications to the Global Scholar Award, a grant that I had not heard of until that moment.
After reading and rereading the email, I decided that it offered a great opportunity to practice grant writing. To my surprise, I was awarded the funding for my research proposal and threw myself into preparation for my project. With the guidance and support of my advisor Dr. Christine Folch, I passed the IRB and sought out further Arabic language-learning.
Through personal connections, I began to learn more about a displaced ethnic minority group in the United Arab Emirates (UAE) called the Baloch people. Having grown up in the UAE, I was fascinated as I heard more and more about a people group I previously had not known existed.
Many Baloch people had moved to the country in search of economic opportunity decades ago, before passports bore the significance they do today. As undocumented families, referred to as bidoon (without), they were unable to apply for work permits, enroll their children in school, access healthcare, open bank accounts, or travel easily within the UAE or internationally. Some had been offered passports from their countries of origin (Pakistan, Iran, and Afghanistan), some had been given Emirati citizenship, and others had been given passports from the Comoros Islands, a country they likely had no personal connection to. Others remained without documentation.
My interest grew as I learned more about this group of people and the dynamic and complex experiences they have had in the UAE.
The summer before my senior year at Wheaton, I returned to the UAE with a growing anthropological framework and the words of Dr. Folch echoing in my ear: "make the familiar foreign and the foreign familiar." The desert heat hit me in familiar waves as I passed camels in pickup trucks and sand dunes rippled past on either side of the highway.
I sat for hours in malls and majalis (sitting rooms) with Baloch women, asking questions and hearing stories, sharing our lives and drinking chai. I was humbled by their willingness to share their family's stories, triumphs, struggles, obstacles and hopes with me. One dear Baloch friend taught me how to make cardamom chai and even had a Balochi outfit made for me! Through the process of interviewing, I learned how to ask better questions and refined my focus in research.
I landed in my senior year at Wheaton with a mountain of jet lag and audio transcriptions to work through. During the fall semester, I worked with my data under the guidance of Dr. Christa Tooley and began to write an ethnography. In the spring, I had the privilege of presenting my findings on campus with the support and sponsorship of the GPS office and the Department of Sociology and Anthropology.
After receiving 1st prize in Anthropology for the Ivan J. Fahs Student Paper Writing Competition for my ethnography on displaced Baloch women in Al Ain, UAE, Dr. Tooley encouraged me to submit to the Journal for Undergraduate Ethnography (JUE).
A few months later, I walked across the stage in Edman chapel to receive my diploma and enter into the unknown post-graduate years.
As I began working in the Wheaton area, I delved further into my research and writing until my revised ethnography was ready to be submitted. I was delighted to hear back from JUE and, after minor revisions, my writing was on its way to peer-reviewed publication.
You can read the complete article here.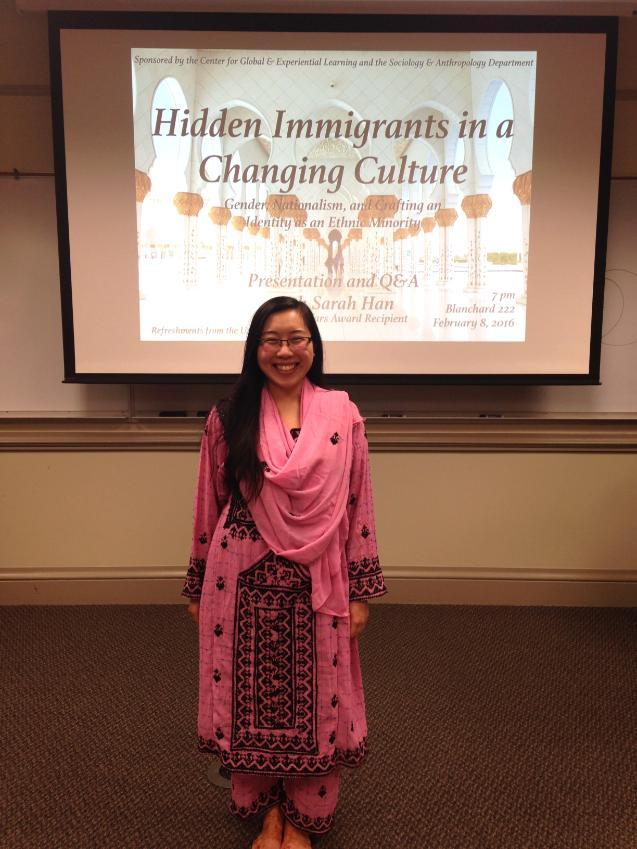 Sarah Han presenting her research entitled, "Hidden Immigrants in a Changing Culture" at Wheaton College, February 2016
In the time between acceptance and publication, I applied to graduate school programs in Anthropology. Soon after, I accepted an offer to the anthropology master's degree program at Columbia University in New York, and began to pack up my world in Wheaton.
Which brings us to today.
The path to this moment was never as clear looking forward as it is now reflecting back. There were heartfelt efforts that led to closed doors and opportunities that seemed improbable, but ended up being pivotal experiences.

Looking back, as I sip my warm cup of chai, I have a deep appreciation for the opportunities Wheaton College offered me and the guidance and example of professors that brought me here, both in the Department of Sociology and Anthropology and across campus.