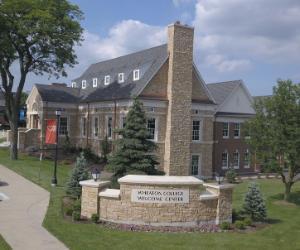 Wheaton College celebrates the culmination of its five-year "From the Heart, For the Kingdom" capital campaign.
Through the generosity of alumni, family and friends, and the steadfast support of hundreds of students, faculty and staff, the College received $187.1 million in gifts and commitments, surpassing its $175 million campaign goal by $12.1 million.
More than 14,000 donor households underscored their commitment to Wheaton's historic mission through financial gifts.
"The Wheaton College community is thankful to God and grateful for the many, many generous donors who have enabled us to surpass the ambitious goals we had for this campaign," said President Philip Ryken. "We believe we are in a stronger place than ever to provide our gifted, diverse student body with a Christ-centered liberal arts education that will enable them to make a difference in the world."
From the Heart, For the Kingdom identified nine initiatives designed to make a Wheaton education more Remarkable, more Relevant, and more Reachable for the students of today and the leaders of tomorrow.
More Remarkable
Efforts to make a Wheaton education more Remarkable include the construction of the Armerding Center for Music and the Arts, which is enriching the opportunities for musical engagement for students and guests alike.
In November 2017 the Conservatory of Music moved into its new home, and the building was dedicated as the center of music-making for the entire campus. The new center includes proper climate control and sound isolation, practice rooms with optimal acoustics, and a new 108-seat recital hall specifically designed for music performance.
Also geared to make a Wheaton education more Remarkable is the College's innovative new Christ at the Core curriculum, a general education model that provides students a broad exposure to the arts and sciences while helping them form essential skills of critical thinking, Christian habits for life after college, and a vision for vocation.
More Relevant
The three initiatives designed to keep a Wheaton education more Relevant include Wheaton's Global Programs and Studies program (GPS), which increases student opportunities for meaningful cross-cultural learning; the Center for Vocation and Career (CVC), which systematically integrates vocation and career exploration into the larger curriculum; and the College's ongoing efforts to deepen ethnic diversity by fostering a learning community that celebrates the multifaceted body of Christ.
More Reachable
The campaign's efforts to make a Wheaton education more Reachable were fourfold. They included a call for scholarship funding to advance global education and ethnic diversity as well as support for the Wheaton Fund, which helps ensure that the College's dedication to affordability is consistent with its commitment to excellence.
Planned Giving contributions help secure Wheaton's accessibility for future generations. And a new, centrally located Welcome Center ensures that all visitors—prospective students, alumni, and conference guests alike—receive a warm Wheaton welcome at the "front door" to campus. The multi-functional building houses the Undergraduate Admissions office, along with a Great Hall complete with fireplace, comfortable seating area, and exhibits chronicling Wheaton's past, present, and future.
"The overwhelming success of the From the Heart, For the Kingdom campaign is a testament to our divinely inspired donor and alumni generosity," said Dr. Kirk Farney, Vice President for Advancement, Vocation, and Alumni Engagement. "It has shown the broad support for Wheaton College and its leadership and reinforces the worthiness of our strategic goals. Now, at the official conclusion of this campaign, we are delighted to announce that God has blessed us with abundantly more than we asked, through the generosity of so many."