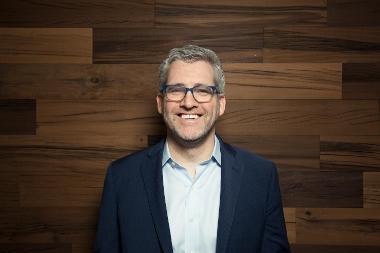 Kent Annan, cofounder of Haiti Partners and author of Slow Kingdom Coming (InterVarsity Press, 2016), After Shock (IVP, 2011), Following Jesus through the Eye of the Needle (IVP, 2009) and the forthcoming You Welcomed Me: Loving Refugees and Immigrants Because God First Loved Us (IVP, November 2018), recently joined Wheaton College as director of Humanitarian and Disaster Leadership at the Humanitarian Disaster Institute (HDI), where he will provide leadership for the new M.A. program. This program is located within the new School of Mission, Ministry and Leadership.
In this newly created role, he will develop vision and strategy for sustaining and growing the MA in Humanitarian & Disaster Leadership program while managing its day-to-day operations. He will also teach courses and advise, mentor, and evaluate students. In this role he will also continue speaking and writing as he represents HDI and the MA program.
"I am so thrilled to welcome Kent to our team," says Dr. Jamie Aten, founder and executive director of HDI and Blanchard Chair of Humanitarian & Disaster Leadership. "He's the perfect person to lead and grow this new program, and he brings with him a wealth of experience on the field and in leading effective programs. Kent has an important voice within the humanitarian community and church alike as a thought leader. I feel confident our students will learn not just from his extensive knowledge of humanitarian work, but also from his compassion for the vulnerable and humility in leadership."
"We are delighted to have Kent Annan join Wheaton College," adds Dr. Margaret Diddams, provost of Wheaton College. "He is recognized around the world for his writing and work integrating Christian faith and commitments into the timely issues of development, children's rights, and refugees. His work here at Wheaton will not only benefit the College but will have an even more lasting impact as the program trains the next generation of Christ-centered leaders in humanitarian and disaster relief."
Kent brings to this role an extensive background in the humanitarian field. After completing his undergraduate degree, he worked for two years in Western Europe with refugees from the former Yugoslavia, Iran, Sierra Leone, and other countries. During his graduate studies at Princeton Seminary he spent three months studying in India. A few days after graduation, he moved to Albania and then Kosovo to work for six months with refugees there. Later he moved back to Princeton to work (and for love!). Then in 2003, he and his wife moved to Haiti for two and a half years. He continued to travel to Haiti regularly in his role with Haiti Partners, which he founded in 2009. He's on the board of directors of Equitas Group, a philanthropic foundation focused on ending child exploitation in Haiti and Southeast Asia.
"I'm thrilled to join HDI and the Wheaton College Graduate School to be part of the leadership of this new MA program," says Kent. "I deeply respect Jamie Aten's vision, research, and leadership, as well as this strong team of colleagues. What a meaningful way to serve students, people who work in humanitarian and disaster vocations, the church, and vulnerable people around the world. I'm so excited to work with students as we seek to follow Jesus together and keep learning to better love our neighbors who need us most."
Kent is a graduate of Princeton Theological Seminary (M.Div.) and Palm Beach Atlantic University (B.A.). He teaches adult education at his local church and speaks regularly to groups around the country. He currently lives in Florida with his wife Shelly and their daughter and son and will relocate to the area to join the program full-time.
The Humanitarian Disaster Institute is the first faith-based academic disaster research center in the country. Its mission is to help the church prepare and care for a disaster-filled world. HDI uses research to create resources and events geared toward students, survivors, helpers, and researchers. HDI also recently launched the M.A. in Humanitarian & Disaster Leadership at Wheaton College Graduate School to prepare the next generation of humanitarian and disaster professionals to lead with faith and humility, utilize evidence-based practice, and serve the most vulnerable and the Church globally.
Wheaton College
Wheaton College (Wheaton, Ill.) is a coeducational Christian liberal arts college noted for its rigorous academics, integration of faith and learning, and consistent ranking among the top liberal arts colleges in the country. Find out more information here.