This blog features stories about the Wheaton College Graduate School. In this week's story, Kent Annan, who has just been appointed the director of the Humanitarian Disaster Institute's M.A. in Humanitarian and Disaster Leadership, shares about his recent trip to Washington, D.C. to discuss the border crisis, refugees, and DACA.
Kent Annan in Washington, D.C.
Two weeks ago I spent the day in Washington, D.C. with a group of about thirty Christian leaders from around the country to meet with the offices of U.S. senators and representatives. Matthew Soerens (Wheaton alumnus, World Relief's U.S. Director of Church Mobilization, and co-author of Welcoming the Stranger) was a key organizer, along with the Evangelical Immigration Table and the National Immigration Forum. We had a press conference and met with twenty-six congressional offices.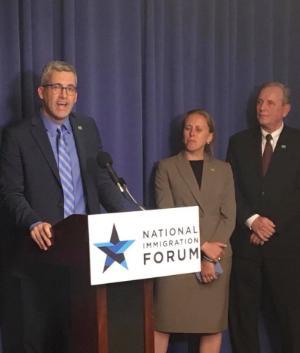 I spoke in the press conference, and our small group met with two senators' offices and four representatives' offices. We focused our conversations on three objectives: ending the zero tolerance family separation policy, increasing the number of refugees received by the U.S. (we were there the day before World Refugee Day), and finding a solution for DACA/Dreams. Our biblical call to love our neighbors and welcome "the stranger" is clear. There are complex policy issues to debate, but security and compassion are not mutually exclusive. This is a difficult time for our nation as we face such complex refugee and immigration issues, but that also means it is a time to raise our voices in loving, wise ways to love our neighbors so they are treated with the respect and care they deserve as children of God.
I'm grateful that Wheaton's Humanitarian Disaster Institute has a long history of helping care for displaced persons, all the way from the Kakuma refugee camp in Kenya to right here in our own backyard. And now students in our new M.A. in Humanitarian & Disaster Leadership will continue advancing this work, including helping those affected by the recent border crisis.
---
Kent Annan leads the M.A. in Humanitarian and Disaster Leadership program at Wheaton College and is a Senior Fellow at the Humanitarian Disaster Institute. He is the author of several books, including the award-winning Slow Kingdom Coming: Practices for Doing Justice, Loving Mercy, and Walking Humbly in the World (InterVarsity Press, 2016), and the forthcoming book, You Welcomed Me: Loving Refugees and Immigrants Because God First Loved Us (IVP, 2018).
We all are called in our own ways to to pray, donate, make phone calls, and volunteer to help those in need due to natural disasters or social issues, and then there are some of us who discover that Humanitarian and Disaster Leadership is the entire vocation and life to which we are called. This is why Wheaton College Graduate School created the first-ever master's program devoted to preparing and sending out leaders in humanitarian relief and social justice, equipped with a uniquely Christian perspective and strategy. Join us on campus or in a flexible learning cohort.