Posted January 30, 2017 by Academic and Institutional Technology
Tags: Phishing Attempts
Phishing Alert | "Athletics Shaving Survey for Market Study"How to Spot a Phishing Attempt
Effective Date: January 27, 2017
Some student athletes recently received an email claiming to be a shaving survey for student athletes. The email prompts the recipient to follow a hyperlink to complete the survey.
This email is a phishing attempt. Do not provide any information to the sender. Thank you to all who reported the scam.
If you responded to this scam, please contact us at 630.752.4357 (HELP).
How to Spot a Phishing Attempt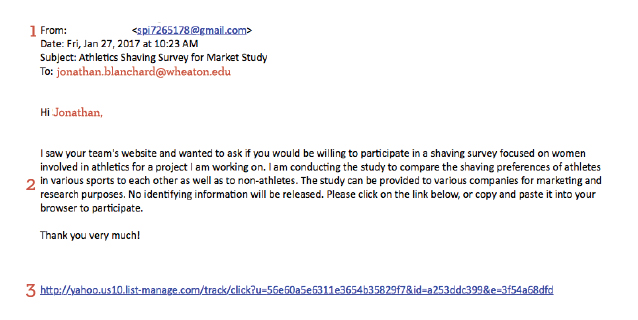 The image above is a screenshot of the phishing attempt. Several things indicate that this email is not what it claims to be:
The email comes from an unrecognized Gmail account. While this does not always indicate a phishing attempt, it's still a sign to be more cautious than usual.
The email is ambiguous about the purpose of the survey and vague about who will be using the information. This is an attempt make the target feel it is necessary to click the link for more information.
The link may take the target to an actual survey, it may mine for personal information, or it may lead to a website that initiates a download of malware. It is never wise to click on any link in an unsolicited email, especially from a sender you do not know.
Always exercise caution when responding to emails. If you're not sure whether an email is legitimate, contact us at ait.service.desk@wheaton.edu or call 630.752.4357 (HELP).