Bruce Howard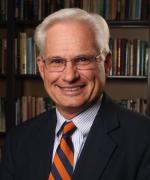 Dr. Bruce Howard is the Carl R. Hendrickson Professor of Business Emeritus, honoring 38 years of service in the Business and Economics Department at Wheaton College. Dr. Howard holds both a Ph.D. in Economics and an M.S. in Administration-Accountancy. These credentials allowed Dr. Howard to teach courses in both the Business Economics and Economics majors. Dr. Howard is regarded as a master teacher by his peers, as acknowledged when he received the Senior Faculty Teaching Award. Dr. Howard has engaged students through teaching techniques that emphasize tactile and physical activities, and he has inspired them through the depth and breadth of the Christian thinking that he brings to economics and business courses.
Dr. Howard has been active in research with publication outcomes in peer-reviewed journals, and his two most recent articles demonstrate the breadth of his work. Dr. Howard's paper exploring the relationship between historical returns on the stock market and the marginal product of capital in the United States was published in the Journal of Business & Economics Research in 2014. A second paper building on his work in experiential learning was published in the Journal of Financial Education 2016. Dr. Howard's record as an author also includes children's books that he wrote and illustrated.
Dr. Howard received the 2015 Alumnus of the Year Award due to his outstanding service to Wheaton College. Although the forms this service has taken are too extensive to list in a single paragraph, two roles stand out. First, Dr. Howard served as the Vice Chair of the Faculty, which demonstrates the trust and respect he earned from his peers. Second, Dr. Howard was the Chair of the Business and Economics Department for twelve years and was instrumental in expanding its business program while supporting the economics program. After stepping down as department chair, Dr. Howard held the Hendrickson Chair of Business. Dr. Howard also served on the Financial Affairs Committee, the HoneyRock Faculty Advisory Committee, the General Education Subcommittee on the Freshman Experience, as the faculty representative to the Investment Committee, and as a faculty advisor to several student organizations.
Outside of the College, Dr. Howard has served his church (most recently by chairing its governing board), Tyndale House Publishers as a tax consultant, and on the boards of directors of financial companies and other organizations.