From the President

Dear Parents,
As students make the best use of the summer with jobs, travel, and fun with family and friends, Wheaton's campus is undergoing the replacement of major utilities, with heavy earth-moving equipment currently covering many of our beautiful lawns. Traber Hall is also undergoing complete renovation for the first time in its half-century of service.
We are grateful for the Facilities team overseeing these essential projects to better serve our students. Lord willing, everything will be fully operational—and beautiful—in time for students to return in August.
This summer my family and I will join the Wheaton in England program for five days, touring familiar sites from my childhood. I also plan to take time at HoneyRock to write and reflect on the fragmented state of evangelicalism, and how Wheaton College can be an instrument of healing.
This summer we welcome Rev. Dr. Angulus D. Wilson (his first name is pronounced like "Angeles" in Los Angeles) as Wheaton's Chaplain. His training, experience, and fidelity to Jesus Christ and the church will make him an exceptional shepherd for our campus. He can't wait to meet your student!
In Christ's service,


Philip Ryken
President
Welcome, New Parents!
Throughout the year, Parent Engagement works to keep parents well-informed and one of the ways we do that is through this newsletter. ePartnerships is published monthly (with a combined July/August issue), and we encourage you to read every edition so you can stay up to date.
If your contact information changes, please use the update your contact information form to ensure you don't miss any of our parent communication.
Our team looks forward to meeting new parents in August when you accompany your student to campus for Wheaton Passage. Relevant Wheaton Passage Orientation information will be sent electronically, so watch your email inbox in the coming weeks.
The Parent Engagement office is here to support you as you get to know Wheaton's campus and launch your son or daughter into college life. We encourage you to spend some time on our parent website where you will find helpful information like the Passage Orientation schedule, academic calendar and contact information for offices across campus.
Mark your calendars for Family Weekend on October 28-29, 2022. Family Weekend offers a terrific opportunity for you to meet your son's or daughter's friends and to experience a little bit of student life at Wheaton.
We look forward to seeing you and your student soon!

Introducing Passage: The Orientation Program of Wheaton College
The incoming class of 2026 will have the distinction of being Wheaton College's first incoming class to fully participate together in Wheaton's dynamic orientation program called Passage. Colleges and universities across the nation are incorporating off-site components into their orientation programs. Wheaton's program stands ahead of similar programs as a comprehensive, robust experience that introduces spiritual formation, academics, and a Christian community for all incoming students.
Passage History
Passage grew out of Wheaton's legacy orientation program that started in 1920 and HoneyRock's optional Passage program from 1969. Both programs were successful, but the COVID-19 pandemic introduced conditions that ultimately brought these legacy programs together. Academic and institutional research that reviewed Passage showed us that students who participated in Passage felt a stronger sense of community, connection to faculty, and belongingness at Wheaton. Amidst these findings, Passage emerged as the new orientation program to benefit all incoming Wheaton students.
What Students Can Expect at Passage
During Passage, new students are welcomed to campus with their family members for a short orientation before departing to their off-site location. Student leaders, staff, and faculty members extend a warm, Wheaton welcome on move-in day where families can get acquainted with the college. Following this, students travel off-site to participate in formational activities with their new classmates. For their off-site options, new Wheaton students can choose a wilderness expedition, a visit to Wheaton's HoneyRock campus, or excursions in Downtown Chicago to start their college journey. These off-site portions of Passage emphasize small groups before building to larger group activities. This allows new students to start small and create an identity with their larger, incoming class as Passage progresses. New students then return to campus to participate in New Student Worship, academic and residence hall intros, and rest up before classes begin a few days later.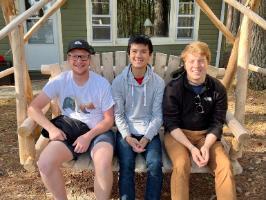 Passage's design invites students into new connections. It aims to provide a compelling option for every new student coming to Wheaton. For those families who have further questions, please consult the Passage website or reach out to Passage@wheaton.edu. Wheaton's Learning and Accessibility office invites those with accommodation requirements to send an email to LAS@wheaton.edu. The Student Financial Services office awards financial assistance for Passage's $895 cost in correlation with each student's financial aid package. Families with questions concerning financial support matters can reach out to sfs@wheaton.edu. Be sure to check out helpful packing lists for all Passage tracks!
Advising and Registration for Incoming Students
Welcome to new students joining Wheaton College in Fall 2022! If you are a parent of an incoming student, please encourage your student to check and use their Wheaton College email account this summer, since they will receive information about advising and registration in that account. Many transfer students have already started registration, and first-year students received an email in May detailing registration procedures. On June 1, first-year students received their pre-registration questionnaire which helps our advisors prepare student records first-year registration which begins in July. Students must fill out this questionnaire prior to registration.
Check out First-Year Advising and Registration information from our Academic Advisors! Incoming students are encouraged to read through this information and contact the Academic Advising Office with any questions at academic.advising@wheaton.edu or make an appointment with an Advisor. Please note: the appointment link requires students to use their Wheaton College login and password. Any questions related to technical issues with making an appointment should go to AIT.Service.Desk@wheaton.edu. We look forward to working with our new students this summer!

Student Financial Services
2022/2023 Financial Aid Awards
Continuing student financial aid awarding for 2022/23 will begin this month. It is particularly important for students to check their student portal and complete any outstanding financial aid requirements to avoid delays in receiving awards. All required documents or forms should be scanned and uploaded using our Secure File Transfer. Emailing sensitive information is not recommended for security reasons.
Please encourage your student to monitor their Wheaton email account over the summer! This is our main method of communication regarding any missing or incomplete items that are needed to complete their award. An email will be sent to the student once their award is ready to view and accept in their student portal and a postcard notice will be sent to their home address.
Fall 2022 Billing and Payment
Fall 2022 bills will be available online in the Student Billing and Payment Gateway in late July with a due date of August 24, 2022 (first day of classes). Students and their Authorized Users will receive an email when the bill is ready to view or print online. Fall payment plan enrollment will be opened when bills are issued. Wheaton College bills by semester, so payment plan participants must re-enroll each semester. Please note that payment plan installment due dates will be changing to the 5th of each month to better align with the academic calendar and semester billing.
Not receiving monthly e-bill notices? Students need to grant parents access to the Student Billing and Payment Gateway under their profile for Authorized Users. Students log in through their student portal. Once authorized, parents will receive two automated emails with login credentials which will allow access to account activity, on-line payments, and payment plans. This also gives our office permission to speak with parents about their student's accounts. Authorized Users log in here.
Students should set up a bank account for Electronic Refunds under their profile in the Student Billing and Payment Gateway to expedite the refund of credit balances by direct deposit. Continuing students can leave credit balances on their accounts to be applied towards future charges.
Please direct questions to Student Financial Services at sfs@wheaton.edu or 630-752-5700.

CVC Offers Career Resources Throughout Summer
It's never too early (or late!) for students to interact with the Center for Vocation and Career (CVC), and that includes over the summer.
Our career resources are available all summer long:
Please help us reach our goal for Wheaton students!
Wheaton College ends its fiscal year on June 30th, and with that comes the close of another year of faithful support for the Wheaton Fund from alumni, friends, and parents like you.

Thank you to all who gave to the Wheaton Fund this year. Your prayers and generosity throughout the year help us provide an excellent and affordable education and Wheaton experience for each student.
If you have not yet had a chance to donate to the Wheaton Fund, or if you would like to make an additional gift, there is still time! Please give by June 30th to help meet our year-end goal.
How to Pray for Wheaton This Month
For safety and protection as students study abroad and travel over the summer
For rest and renewal after a full year of academics, events, and relationship building
For smooth transitions for staff and faculty stepping into new roles, particularly for Dr. Vanessa Wynder Quainoo '81 as Chief Intercultural Engagement Officer and Rev. Dr. Angulus Wilson as Chaplain
With thanks for your involvement and prayers,
The Wheaton College Parent Engagement Team