From the President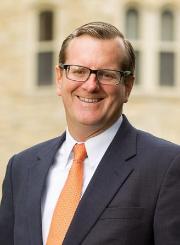 Dear Parents,
Since its beginning, Wheaton College has included music education for all its students. An antique postcard from President Blanchard in 1876 advertises vocal and instrumental lessons—at the low, low price of 40 lessons for one dollar! Today undergraduate students from nearly every major participate in music courses, lessons, and ensembles, and nearly 40,000 people attended music events at the College last year.

The newly renovated Armerding Center for Music and the Arts opened in 2017 to house Wheaton's Conservatory of Music. Yesterday we joyfully launched the final phase of construction: a 648-seat concert hall to be completed in August 2020. Nearly a dozen new programmatic initiatives provided by supporters of the Center were also unveiled, including an endowed Chair of Sacred Choral Music and Conducting, a choral rehearsal room, and a Certificate of Worship Arts to commence in the Fall of 2019.

We thank God for the generous gifts and commitments provided by more than 1,200 donors for this exceptional new music facility, "for the glory of God and the refreshment of the soul." We invite you and your student to enjoy it during your time on our campus.
In Christ's service,
Philip Ryken
President
National Collegiate Day of Prayer
Calling all parents! The Collegiate Day of Prayer is Thursday, February 28, 2019. We invite you to join parents from around the world in praying for the student body and the College. Consider using the Parent Prayer Card to help guide your prayer time or join the Parent Facebook Group where prayer requests will be posted daily throughout the month of February.
Note from the Chaplain's Office
We are encouraged by the signs of spiritual vitality and interest among our students. Student-led grassroot movements for both prayer and scripture engagement are taking root across campus and gaining momentum as the semester unfolds. Student Life, Chapel, and Classes are causing students to express a sincere interest in letting faith impact the crucial issues of our time.
What are your 5?
The Center for Vocation and Career is launching a new event for first-year students on Saturday, March 2 from 10am-noon. What Are Your 5? will introduce our newest Wheaties to the need for self-awareness in the vocational journey. Using the CliftonStrengths assessment, students will explore the way God has wired them at this fun, interactive, high-energy event!
Athletics
The Thunder men's and women's basketball teams are making pushes for CCIW regular season and tournament titles, as well as NCAA Tournament bids. The Thunder women's basketball team ended January with a season sweep of nationally-ranked Illinois Wesleyan to take sole possession of first place in the CCIW standings. Senior Aston Francis of the Wheaton men's basketball team has been named the CCIW Player of the Week a record eight times this season and he has won the recognition a record 15 times in his career.

The Thunder track and field teams opened their indoor season in late January as the Thunder women's program looks to defend its CCIW Indoor Track & Field Championship. Men's and women's swimming are preparing for the 2019 CCIW Swimming Championships March 14-16.

The Thunder wrestling program hosted the 2019 Pete Willson-Wheaton Invitational January 25-26, with 38 teams from 12 different states participating. Two Thunder wrestlers placed second as Wheaton sent two wrestlers to the championship match in their respective weight classes for the first time since 2003.

Softball traveled to the Dominican Republic in January for a sports ministry trip. Wheaton softball begins its season on March 9 with a week-long tournament over spring break in Clermont, Florida.

The Thunder baseball team opens the 2019 season on March 1 and will play seven varsity games over spring break in Fort Pierce, Florida. Thunder men's tennis begins the 2019 season on February 8. The Thunder men's and women's tennis teams will travel to Orlando, Florida for competition during spring break. Men's golf will be in the Phoenix area for competition and practice during spring break.

For complete information on Wheaton's 21 varsity athletics teams be sure to visit athletics.wheaton.edu for schedules, recaps, videos and much more. Sign up for text alerts from Wheaton Athletics. Be sure to follow Thunder Sports on Facebook (facebook.com/WheatonAthletics), Twitter (@Wheaton Thunder) or Instagram (@Wheaton_Thunder)

Thunder fans can watch many home events on the Wheaton Thunder Sports Network at http://livestream.com/wheatonthunder or watch by downloading the Livestream app on iTunes, Google Play, or Roku Store.

For information on Wheaton's club sports be sure to visit the club sports website.
HoneyRock, Center for Leadership Development
Wheaton in the Northwoods (WIN)
Is your student trying to lessen their semester credit load, graduate early, or have a one-of-a-kind academic experience? Wheaton in the Northwoods takes place at HoneyRock where students can earn 4 to 8 credits during 2 or 4 weeks of class time (plus pre and post-homework). Students enjoy smaller class sizes, interaction with professors in and out of class, and focused course content. With summer tuition rates, students save over $1,000 per 4-credit class. Learn more about WIN.
Leadership Certificate
Integrating classroom theory with practical leadership experience, this certificate features a robust curriculum and three distinct internships. Students engage with dynamic opportunities to build their resume and learn both the art and science of leadership.

Cassidy Griffith '19, reflects on her experience: "As an Applied Health Science major, I learn how to care for the physical body. My Leadership Certificate coursework on campus and at HoneyRock teaches me how to care for the soul. Applying the study of both disciplines to three diverse internships has empowered me to be a more effective leader."

Learn more about the Wheaton College Leadership Certificate.
Summer Leadership School (SLS):
By leading campers closer to Christ through transformational outdoor experiences, students will build emotional intelligence, self-awareness, and leadership skills. SLS can serve as a stand-alone experience or be applied towards the Leadership Certificate. Learn more about SLS.
Tuition Freedom Day
February 7 was Tuition Freedom Day. Each February, students celebrate the impact of your gifts to the Wheaton Fund by writing notes of gratitude in response to the generosity of alumni, parents, and friends who help to ensure the excellence and affordability of their Wheaton education.

Here are a few of the hundreds of notes written by students:
"Thank you so much for your donation to Wheaton College. It is people like you who make my experience possible!" - Maddison Engh '19
"I am so grateful for your willingness to support Wheaton College and the hundreds of students that are being formed and prepared to go out and serve the kingdom from here. Thank you for your generosity. Wheaton would not be possible for a student like me if it wasn't for a giver like you. As we say where I come from, merci beaucoup!" - Angele Bubna '19
"On behalf of the Wheaton student body, thank you for your support of prayer and gift giving to this college! My experience these last 4 years has been nothing short of growing and empowering. Thank you for investing in a place that invests so well in its students." - Sophia Iglesias '19
Wheaton College joins students in expressing heartfelt thanks for your support!


Symphony Orchestra Tour
The Wheaton College Symphony Orchestra will embark on a spring tour, March 9-17, 2019. Led by Conductor Daniel Sommerville, 70 students will begin their tour in North Carolina and end in Washington D.C., visiting schools, churches, and monuments along the way.
FAFSA Information
2019/20 FAFSA: The priority deadline for filing a 2019/20 FAFSA is March 1, 2019.
Students and parents must file a FAFSA each year in order to receive Federal and Wheaton College need-based financial aid. Filing by March 1, 2019 will allow for full consideration of a student's eligibility for Wheaton College's limited need-based funding.
Student Accounts
Effective March 17, 2019, cash will no longer be accepted for paying student account balances. Accepted forms of payment are:
Online Electronic Check (ACH) from a checking or savings account. This is a free service.
Online using a credit or debit card. There is a non-refundable bank service charge of 2.85% per transaction.
Paper check (free).
Bank wire (bank fees apply).
2018 1098T tax statements are now available electronically for students that have opted out of paper forms. Otherwise, paper forms were mailed to the student's permanent mailing address. Authorized Users can also view the statement if their student has granted 1098T viewing access in their profile.

IRS guidelines have changed requiring schools to report payments made towards tuition and qualified fees instead of tuition billed as in prior years. Room and board will not be reported.

Not getting the monthly eBill notices? Students need to grant parent access to information related to their student accounts in their Student Billing and Payment Gateway Profile under Authorized Users.

It is recommend that parents and students log in to the Billing and Payment Gateway at least once each month when the eBill notices are sent to review their accounts.

Please direct questions to Student Financial Services at sfs@wheaton.edu or 630.752.5700.
BreakAway Scholarships
Every spring break, the OCO designs, recruits, and sends students on BreakAway trips around the world where students work alongside community partners to learn through service. These BreakAway Ministry trips catalyze transformative experiences for students as they experience learning off-campus. This March, teams of students will be traveling to Angola, LA; Mexico City, MEX; Appalachia, TN; Deering, NH; and Puerto Rico, PR. We invite you into God's mission for the world by financially giving toward these student experiences. Your donation will help fund trips for students who may not have resources to travel. We are so grateful for your partnership in God's Kingdom work! Give to the General OCO Scholarship Fund.
Center for Global & Experiential Learning
Key Dates:
February 12th: Wheaton in Mexico interest session at 10:30am in Parmalee, Lower Beamer. Could a semester in Queretaro be your best semester at Wheaton? Come explore the program with Dr. Tim Klingler and former student participants.
February 15th: Final commitment deadline for summer "Wheaton in" study abroad program participation.
February 21st: Study Abroad is for everyone! Come at 10:30 a.m. to Phelps, Lower Beamer to learn about study abroad opportunities and how to apply. Semester Study Abroad programs complement any major on campus and in many cases cost less than a semester on campus!
Every week day in February: Study Abroad office hours are available each work day. Monday sign-ups are available in OMD; Tuesday-Friday sign-ups are available online at debkim.ycb.me.
March 1st: Deadline for Fall semester study abroad applications started in GoGlobal.wheaton.edu.
How can you pray for Wheaton this month?
Give thanks for God's provision to the College, providing the final phase of construction for the Armerding Center for Music and the Arts.
Pray that the chapel program will nurture students' commitment to corporate worship and spiritual growth.
Pray that students will be strengthened and encouraged through their interactions with faculty members, staff, and friends and that the campus community will relentlessly pursue truth and love in all things.
Pray for students as they prepare to travel to various destinations over spring break. Pray especially for students who will be serving on ministry trips, that their faith and learning will grow through the experience of serving others.
With thanks for your involvement and prayers,
The Wheaton College Parent Engagement team