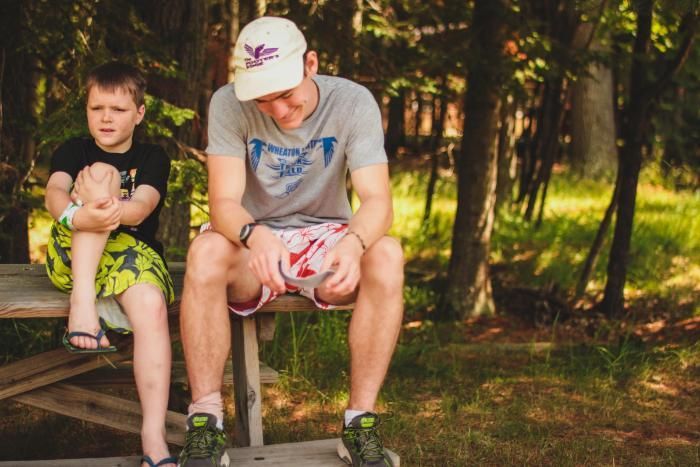 Why SLS?
The Summer Leadership School (SLS) provides college students a unique setting to experience personal formation and live in a transformative community. Through SLS, students develop their character and leadership ability to make a meaningful contribution in the world.
Experience Unforgettable Community.
One of the most fun and growing elements of a summer at HoneyRock is the people - we've heard summer staff say that since 1951. Like on of our cabin leaders put it, "It is not a place of perfection, but a place of transformation. The people in this place have internalized God's love for them in such a way that it impacts everything they do. It is a place of community, encouragement, challenge, and growth. As someone who worked there for only one summer, I would would be perfectly happy to work and live there for the rest of my life." - Julie Heath, SLS '13
Grow Your Ministry Experience.
All SLS students will receive extensive ministry training. HoneyRock staff and Wheaton College faculty will lead specialized training in child development, communication, education, and psychology to prepare you for working with young campers. Additionally, you will learn how to plan and lead a spiritual formation journey for your campers. This training time facilitates the development of team unity and builds a deep, mission-minded community.
Define Your Leadership Gifts.
Discover your gifts, abilities, and passions in leadership through individualized coaching, training, and hands on leadership experience. The greatest transformation comes when we quiet ourselves long enough to listen attentively to God, to one another, and to what's stirring in your own heart. While transformation takes place over time, it requires a place for healing, trust, and connection. Our mission is to help you become a whole and effective leader with an ability to build redemptive communities.
Enhance Your College Career.
The world is calling out for a different kind of leader - college is the time to step into a new kind of leadership. It's not the acquisition of power that changes the world, but the ability to love, serve, and forgive. We inspire maturing leadership through the restorative and transformational power of Christ-Centered community, meaningful service opportunities, and outdoor adventure. This transformation leads to greater influence and a stronger capacity to lead.
SLS is one of the best opportunities to learn how to lead by leading. We combine educational experiences with real hands-on ministry opportunities. This unique opportunity offers up to 8 hours of academic credit (optional). After completing five weeks of team building and training, you will apply and refine your unique leadership style by guiding elementary, middle, or high school students through their own HoneyRock experience.
This is HoneyRock's flagship program - it's been around since the beginning!
Yes! Through your participation in SLS you can earn 4 credit hours by taking CFM 241: Leadership Development, as part of the Leadership Certificate of Wheaton College. This certificate is an experiential program that integrates academic study with practical, on-the-ground leadership opportunities.
Check out info on the Leadership Certificate to learn more.
Yes -SLS Summer Staff receive a paid stipend each summer.
We're about six hours north of Wheaton College - but don't let the distance deter you! If you don't have a car, we offer transportation to and from HoneyRock at the beginning and end of SLS. At the same time, many of your friends will have cars, so you can make trips to town as your schedule allows.
As you make the drive north, the hustle and bustle of the city fades and instead beautiful lakes and forests begin to take over. You can experience creation unfiltered and up close. Imagine living in a cabin by the lake, spending nights around a campfire, and seeing the most beautiful stars. We love it!
2021 Summer Leadership School Important Dates
| Dates | Activity |
| --- | --- |
| May 23 - June 20 | Cabin Leader Training/Preparation |
| June 21 - July 26 | Counseling Advance Camp |
| June 21 - August 9 | Counseling Residential Camp |
To learn about Summer Leadership School, email Ashley Kiley or call at 630.752.5124