The new research-based program will equip students with the tools they need to serve as leaders in their fields.
The HoneyRock Center for Leadership Development is introducing the J. Richard and Mary Chase Leadership Program. This four-year program for undergraduate Wheaton College students builds on the success of the existing Leadership Certificate, offered for the last five years.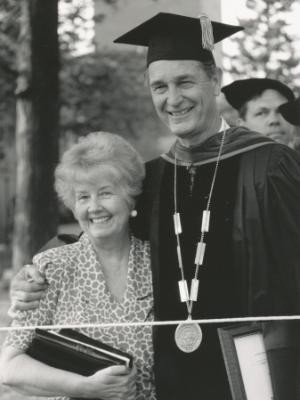 Named for two HoneyRockers, the program seeks to honor the humility, resilience, and faithfulness that Dr. J. Richard and Mary Chase modeled throughout their lives. Dr. Chase served as Wheaton College President from 1982-1993 and was an avid supporter and regular presence at HoneyRock.
"The Chase Leadership Program fosters leadership and character development of emerging adults through a series of experiences, coaching, and coursework," said HoneyRock Dr. Rob Ribbe. "During this four-year program, students will progress through a curriculum that prepares them to graduate with the tools they need to lead in their field."
This program also brings together the expertise of two additional centers, the Wheaton Center for Faith, Politics & Economics and the Wheaton Center for Faith and Innovation, as well as an Advisory Council composed of members representing major fields ranging from business to foreign affairs and scattered from Dallas to Dubai.
The design of the program is based on research from several well-known researchers in the leadership development field, including Dr. Susan R. Komives' Leadership Identity Development Theory, Dr. Ram Charan's Leadership Pipeline, and the Center for Creative Leadership's 70-20-10 rule, which states that an effective leadership development program includes 70% experience, 20% coaching and 10% coursework.
In the first year of the Chase Leadership Program, students will focus on leading themselves, asking questions, such as "Who am I in Christ? How have I been crafted and made by God? What are my gifts, strengths, abilities and callings?" In the second year, students move into leading others, learning skills that will help them to lead individuals. In year three, they move into leading teams; in the fourth and final year, they learn how to lead organizations and Integrate leadership learning with their major.
Students will also get practical experience each year of the program through leadership roles, such as a camp counselor at HoneyRock or a Resident Assistant on campus. In addition, coaches walk alongside students to deepen their learning and facilitate reflection.
"I see [the Chase Leadership Program] as foundational to my mission and vision of ministry," says Emily Mayurama '22, who will graduate from the program this May.
-- Emily Bratcher