Aycock will study the Turkish language in Baku, Azerbaijan in the coming 2021-22 academic year.
Abigail Aycock, a rising senior at Wheaton College, was awarded a Boren Scholarship to study the Turkish language. As part of the Boren Scholarship, Aycock is participating in the Turkish Flagship Language Initiative (TURFLI), which affords students both domestic and international language study. Aycock will study Turkish at the University of Wisconsin-Madison this summer, moving to the Azerbaijan University of Languages in Baku, Azerbaijan in fall 2021 to continue her studies.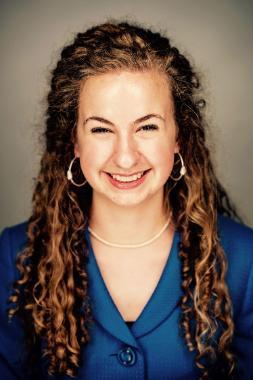 The Boren Scholarship, sponsored by the National Security Education Program, provides funding for U.S. students studying abroad in regions critical to American national interests. This year, the Institute of International Education, which administers the Boren Awards, received 626 applications from undergraduate students. Just 188 were selected.

"Being awarded the Boren Scholarship is an honor and a blessing as I seek to serve in public service after graduation," Aycock said. "I look forward to the opportunity to delve into a new language and study abroad in Azerbaijan this fall."

In addition to providing funding for study abroad, the scholarship also opens future job prospects. One of the scholarship requirements is a year of public service.

"I've had the pleasure of having Abigail in a number of classes and am thrilled that she has this opportunity," said Wheaton College Social Sciences Dean Dr. Bryan McGraw. "Her natural curiosity, superb work ethic, and generosity toward her fellow students mark her out as a model Wheaton student. What I really love about teaching Abigail is the joy she brings to her learning and how committed she is to public service. The Boren will really help her achieve her vocational goals, and I'm excited to see how things unfold for her going forward."

Since 1994, more than 7,000 students have received Boren Awards and contributed their vital skills to careers in support of the critical agency missions throughout the federal government. Aycock follows in the footsteps of Wheaton's Cassia Waligora who last year was awarded the Boren Scholarship.

"To continue to play a leadership role in the world, it is vital that America's future leaders have a deep understanding of the rest of the world," says former U.S. Senator David Boren, the principal author of the legislation that created NSEP. "As we seek to lead through partnerships, understanding of other cultures and languages is absolutely essential."

--Emily Bratcher

Learn more about Politics and International Relations at Wheaton College.