Van Oss reflects on how his Wheaton education prepared him for his work at the Supreme Court.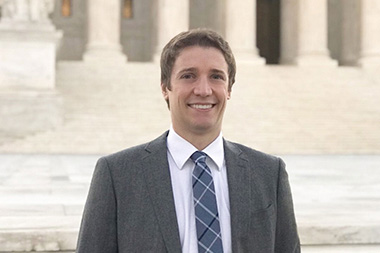 Since oral arguments at the U.S. Supreme Court began in October, Wheaton College alumnus Trenton Van Oss' workload and hours have increased, but he doesn't mind. "The work is fascinating and enjoyable, so I see the long hours as a chance to make the most of this incredible opportunity," Van Oss said.
Van Oss, who graduated from Wheaton College in 2014, is four months into his yearlong clerkship for Associate Justice Brett Kavanaugh. Clerks perform legal research for the Justices they serve, which ultimately helps the Court decide its cases and which cases to hear. They also help the Justices formulate questions for oral arguments and assist in writing memoranda and opinions.
Since his graduation from Harvard Law School in 2017, Van Oss has served at a law firm in Denver, as a clerk for Judge Britt Grant on the U.S. Court of Appeals for the Eleventh Circuit in Atlanta, and as a clerk for Judge Dabney Friedrich at the U.S. District Court in Washington, D.C. Van Oss says that any judicial clerkship gives newly minted attorneys an immersive experience in the law, but that's especially the case at the Supreme Court.
"It's an excellent form of training," Van Oss said. "Afterward, some clerks move on to jobs in academia. Some become practicing lawyers or go into government work. But they've all had this great, intensive training that prepares them well for their legal career."
Van Oss, who double-majored in Political Science and Spanish, says his time at Wheaton College was formative. "Wheaton helped to give me a grounding that has been immensely important as I navigated law school and now the first few years out in the legal market," Van Oss said. "Academically, the emphasis on writing and dissecting ideas down to their core helped prepare me for law school."
He also found mentors, including political science professors Dr. Amy Black and Dr. Bryan McGraw, and Spanish professor Dr. Christine Goring Kepner. Brooks Locke '98 and Eric Pierce, husband to Center for Vocation and Career Director Dee Pierce, supported Van Oss as he started Wheaton's Mock Trial Team.
While a student, Van Oss worked as a research assistant for McGraw. "Trenton was a tremendous joy to teach," McGraw said. "What was most striking to me about him was his intellectual maturity. He could engage in issues of real complexity and high controversy and engage opposing arguments with a degree of care and thoughtfulness that is, frankly, unmatched even by too many scholars."
Van Oss recalls his time at Wheaton as being "incredible" for a number of reasons. Not only did he meet his future wife Jenn Bredemeier and make lifelong friendships, he also gained a strong faith foundation.
"My time at Wheaton has enabled me to stay focused on what matters—my relationship with the Lord and my responsibility to serve the people around me," he said.
Learn more about Wheaton College's Politics and International Relations department here and the Modern and Classical Languages department here. —Emily Bratcher