Robert Nordling, Jr., who graduated from the Wheaton College Conservatory of Music in 1981, was awarded a Fulbright Specialist Scholarship for his work with the Bandung Philharmonic.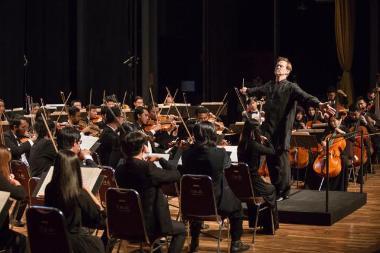 Wheaton College Alumnus Robert Nordling, Jr. '81 won a Fulbright Specialist Scholarship for his work with the Bandung Philharmonic. The Fulbright will fund a four-week trip to Bandung, Indonesia, where Nordling will continue his work of conducting Bandung's first professional orchestra and mentoring the next generation of Indonesian conductors.
"The Fulbright will allow us to extend and capitalize on the work that we've been doing for the last five years with both the orchestra and with many young Indonesian conductors," Nordling said. "It is a great gift."
The Fulbright Specialist Scholarship is awarded to U.S. professors and professionals who serve as consultants on their area of expertise at overseas universities, cultural centers, non-governmental organizations and other institutions around the world.
Although Nordling graduated from the Wheaton College Conservatory of Music in 1981, studied under the baton of Leonard Bernstein, taught at Calvin College, and conducts various orchestras, including the Bandung Philharmonic, Lake Forest Civic Orchestra and Baroque on Beaver Island Music Festival, he never dreamed he'd be the recipient of a Fulbright award. In fact, he was only prompted to apply at the urging of the executive director of the American Indonesian Exchange Foundation, which awards the Fulbright in Indonesia.
"It's a huge, humbling honor," Nordling said. "To be named among these other Fulbright scholars, who are just stellar academics, professors, and researchers—and to have Fulbright recognize the value of nearly 40 years of work—it's deeply affirming, and I'm so grateful."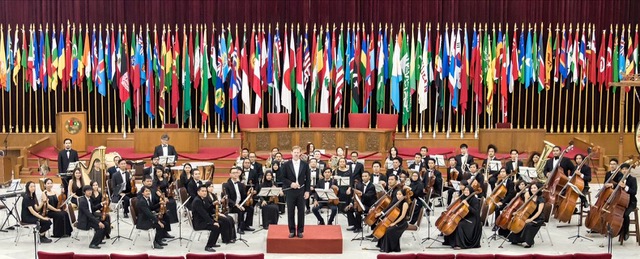 In 2015, Nordling started collaborating with a former student Airin Efferin, who was interested in developing the first ever professional orchestra in Bandung, a city in West Java, Indonesia. By January 2016, Nordling was standing on the podium in front of about 65 musicians conducting Beethoven's Symphony No. 3, "Eroica," and the Indonesian premiere of Marisa Hartanto's "Rumble to the Past," among others, at the Gedung Merdeka museum in Bandung. He has since returned four times each year for about three weeks at a time to conduct the season.
"What we've done right from the very beginning is make the orchestra a mutual-learning opportunity, so we go primarily as learners and secondarily as leaders," Nordling said.
To that end, Nordling has endeavored to learn the Indonesian language, and he's incorporated Indonesian instruments, such as the angklung, a traditional Indonesian instrument, into the performances. Each season, the Bandung Philharmonic also commissions a new piece of music by an Indonesian composer.
"Asking these composers to write for the Bandung Phil is simply acting like a polite guest," Nordling said. "It is a basic commitment to the music of living composers that all orchestras share—or should. It also gives exposure to composers in Indonesia who may have less access to orchestral forces. We get some wonderful new music, they get their music played by a professional ensemble. Everyone wins."
Nordling has also worked to nurture the next generation of Indonesian conductors through a fellowship program, in which Nordling mentors three up-and-coming conductors per season in the hard skills of learning to interpret a composer's music and convey that to the musicians while also practically teaching them how to keep an orchestra and choir in time. He also cultivates the soft skills of leadership development, professionalism, and discipline.
With the Fulbright funding, Nordling is traveling to Bandung in late November to kick off the Philharmonic's upcoming season. The orchestra will perform Beethoven's Symphony No. 9 and "Terbangnya Burung," translated as "Birds Fly," a piece by Arya B. Boga, winner of the Indonesia Young Composer Competition 2019.
"There are wonderful Indonesian conductors there—fabulously talented and highly motivated," Nordling said. "This project gives us the ability to invite additional younger conductors, especially beginning conductors, to put down some foundations for their careers. It broadens the reach of what we have been doing these past five years." —Emily Bratcher