This blog features stories about the Wheaton College Graduate School. In this story, BGC Scholar Patty Ramírez M.A. '21 shares her passion for bringing Marriage and Family Therapy to at-risk groups in her home country of El Salvador.
Patty Ramírez: Bringing Marriage & Family Therapy to at-risk groups in El Salvador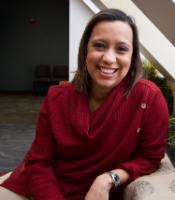 "It's an interesting story!" Patty Ramírez laughs in response to the question, "What brought you here?"
And it is. Patty, originally from El Salvador, found her way to the M.A. in Marriage & Family Therapy after spending years in nonprofit work and thinking she'd never go on to receive advanced training.
Patty comes from a career in working with at-risk populations in El Salvador. In 2006, she began working at a nonprofit that worked particularly with youth and family restoration. It was during this time that Patty discovered her passion for working with families. This was when Patty met Catherine, a missionary within the organization and a Wheaton alumna. They quickly moved from coworkers to dear friends, bonding over their shared passion for healthy families.
A few years later, Catherine moved to Guatemala, but the friends still stayed in touch. One day, Patty received a message from Catherine about the M.A. in Marriage and Family Therapy (MFT) program at the Wheaton College Graduate School.
Patty laughed, remembering the email exchange. "I had no intention of going back to school! In El Salvador and even in the broader region of Central America, there is no formal training in family work."
But after hearing about the Billy Graham Center Scholarship for International Leaders, Patty began to consider the M.A. in MFT. For a year, she prayed and sought counsel. Finally, she decided to apply for both the program and the scholarship. She got accepted to both, sealing her decision.
From day one, Patty knew this was where she was meant to be. At Wheaton, she has felt her calling to work with families and at-risk groups affirmed over and over again. Her classes and professors equip her with the tools to live out that calling.
"In one of my classes we are learning a lot about how to set up a professional and safe environment for clients and for ourselves as therapists. We have also learned aspects that go beyond therapy, like the business and ethical side of setting up a practice. I went up to my professor after class and said, 'I wish I had known this years ago!'"
Her joy is evident as she talks about her classes and her future hopes.
"I feel so affirmed that this is what God has made me to do. It's this calling and the fact that I have seen His miracles that encourages me. I see what God has done. I see the healing. Yes, it can be hard work. But it is totally worth it."
After graduation, Patty plans on returning to El Salvador to continue her work within nonprofit and private practice settings.
- Dana Krol
Learn more about the M.A. in Marriage and Family Therapy
The M.A. in Marriage and Family Therapy seeks to form Marriage and Family Therapists who are clinically skilled and who integrate their personhood as followers of Christ in their professional and personal lives; who value interpersonal justice and the diversity of clients and client systems; and who work toward the goal of healthy and whole relationships, giving specific attention to those on the margin of society and those who are underserved.