Holocaust survivor Walter Blass spoke about his life to Wheaton College students and local eighth graders.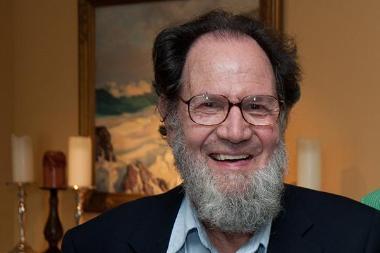 As part of a series of events presented by Wheaton's Office of Intercultural Engagement, Holocaust survivor Walter Blass came to the campus of Wheaton College to share his testimony of God's faithfulness to him throughout his life. He also shared insights from his life with area eighth graders.
As a child, Blass and his family fled Nazi Germany to Belgium. About five years later, as World War II started, his father was arrested and sent to a French concentration camp. Blass and his mother again fled—this time moving to France, where they were later arrested for being enemies to Germany. Blass' mother was sent to an internment camp, and Blass was sent to a home for delinquent children. Four months later, his parents were released and the family was able to seek asylum in the United States, where Blass grew up and started a successful career in the Navy. He later worked as an assistant foreign aid officer to Cambodia and Laos, the country director for the Peace Corps in Afghanistan, and the director of strategic planning at AT&T.
"Opportunities to hear first-hand testimonies from Holocaust survivors are becoming increasingly rare," said Wheaton College Chief Intercultural Engagement Officer Dr. Sheila Caldwell. "Walter Blass' visit was a gift to the Wheaton College community because he shared how his lived experiences shaped not only his worldview, but also his relationship with God."
During Blass' time in Wheaton, he spoke to an assembly of eighth graders at Franklin Middle School and shared his testimony during an evening lecture at the College. He also spoke in Dr. George Kalantzis' First Year Christian Community Seminar on the topic of assimilation and Dr. Brian Howell's First Year Anthropology Seminar about crossing cultures. He also consulted with employees on the Center for Vocation and Career team.
Wheaton junior Joshua Thomas, who was part of a group of students that met with Blass over lunch, said he was struck by his insights.
"His ability to engage with his past experiences in light of our experience today was a really eye-opening thing for me," Thomas said. "It was also clear how humble he was in articulating his experiences and how thoughtful his presentation of his experience was."
Caldwell agreed, adding: "Blass became a Christian because he was able to experience God's goodness and mercy while enduring one of the worst horrors known to mankind. I was reminded to be grateful for the God who saved him from the Nazis, and the God who saves us by his grace."
Learn more about events at Wheaton College here.