Dr. Pam Barger will spend the spring semester of 2020 teaching and conducting research in Thailand.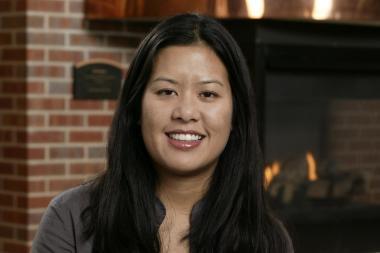 Dr. Pam Barger, assistant professor of Teaching English to Speakers of Other Languages (TESOL), won the prestigious Fulbright award.
"It is truly an honor and privilege to be a Fulbright recipient," Dr. Barger said. "To be able to research and teach as a Fulbright U.S. Scholar in Thailand is not only an important professional accomplishment in furthering mutual collaboration between the two nation-states, but also expand my personal growth as a Thai-American female educator."
Dr. Barger, who is also the English Language Institute Program Director in the Applied Linguistics and International Education Department at the College, will spend the spring semester of 2020 at Chiang Mai University in Chiang Mai, Thailand.
Teaching in Thailand is nothing new for Dr. Barger, who previously guest-lectured in her father's hometown of Lop Buri and taught graduate students who participated in partnership programs in Chiang Mai. Now, she eagerly anticipates spending several months at one of the country's top universities, as a part of the Fulbright Program.
The Fulbright Program' s mission is "to increase mutual understanding and support friendly and peaceful relations between the people of the United States and the people of other countries." Started in 1946, the United States Department of State initiative offers research, study and teaching opportunities to students and scholars in more than 155 countries worldwide.
"With the Fulbright grant, I plan on researching alternative and innovative ways to empower females through education access and examining Massive Open Online Courses (MOOCS)," Dr. Barger said. "My hope is that through my time in Thailand, I will further understand the role of technology in providing education access and opportunities for females and the underserved."
Dr. Barger obtained an M.A. at Wheaton in Intercultural Studies/TESOL, after graduating from the University of Illinois at Urbana-Champaign with a B.S. in Psychology. She went on to complete a Ph.D. in Cultural and Educational Policy Studies at Loyola University Chicago before taking a position at Wheaton in 2005.
"Understanding Senator Fulbright's commitment for international exchange is something that I have continued to aspire as my academic background has been focus on international and global education," she said.--Lyndi Tsering