Dr. George "Bud" Williams, Jr. M.A. '66, who served the college for 50-plus years, passed away on June 12, 2019.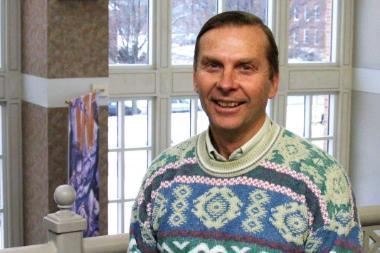 On June 12, 2019 surrounded by his family, Dr. George "Bud" Williams, Jr. M.A. '66 went to be with the Lord. He was 77.
Bud was born on May 8, 1942 in Philadelphia, the son of a Presbyterian pastor. He spent his childhood in New York and Philadelphia and later attended Penn State University, where he was a member of the national championship-winning gymnastics team and an ROTC battalion commander. During that time, he was also a runner-up of the Rhodes Scholarship and offered a full ride to Yale University to pursue a Ph.D.—which he ended up turning down.
A friend told Bud: "I think you ought to do a semester at Wheaton College and get grounded biblically before you get into that program at Yale," said Bud's wife of 51 years, Edith "Edie" Koehler Williams M.A. '97.
Williams took his friend's advice, but he didn't want to leave after just one year. He ended up foregoing the scholarship at Yale for a master's degree and a full Teaching Assistant load at Wheaton College. During that time, he organized the College's first sports-ministry program when he took the gymnastics team to Haiti. But Edie said that Bud "fell in love with Wheaton College largely through Honey Rock Camp…He just knew that's where he wanted to be the rest of his life."
With the Vietnam War raging, he was recruited by West Point Military Academy to coach and teach—and he fulfilled his military obligation there, from 1966-1969. But Wheaton College kept beckoning. Edie, who met and married Bud during his time at West Point, remembers Bud telling her: "My heart is at Wheaton College. I want to go back."
Harvey Chrouser '34, Wheaton College's longtime athletic director and football coach, hired him to teach physical education, coach the gymnastics team, and to work summers at HoneyRock, the College's camp in Wisconsin. There, Williams developed the Vanguard program in 1969, with the aim to build the character of men through several weeks of wilderness challenges.
Although Vanguard has evolved throughout the years, for instance admitting women in 1974, it has since become a cornerstone program at HoneyRock: The Outdoor Center for Leadership Development, where it's now called Passage.
"Bud served more than 50 summers as staff and faculty at HoneyRock," said HoneyRock Director Dr. Rob Ribbe, "He is responsible for teaching thousands of students to enjoy the outdoors through cross-country skiing, canoeing, hiking, mountain biking, and more. He taught hundreds to lead in the wilderness and care for themselves through classes at Wheaton. His energy and enthusiasm earned him the affectionate name of 'Bionic Bud.' The impact on the programs and facilities of HoneyRock are immeasurable."
He was chair of the board of trustees for Christian Camping International (CCI) for a dozen years and also served at its historian. He helped found CCI's Brazilian chapter in 1983. He also served as a board member and the chair of the Dickson Valley Camp for many years. He has been a member of College Church since 1973.
Williams is survived by his wife Edie, his sons Nate (Ginny) and Cameron (Christine) Williams, daughter Noelle (Greg) Hogan and nine grandchildren. He is also survived by more than 14,000-students who have profited from his teaching and mentoring since 1963.
Memorial contributions can be made to HoneyRock, 8660 Honey Rock Road, Three Lakes, WI 54562 or Dickson Valley Camp & Retreat Center, 8250 Finnie Road, Newark, IL 60541.