This summer, Wheaton students traveled to Tel Shimron in Israel to excavate and learn alongside faculty and experts from around the world.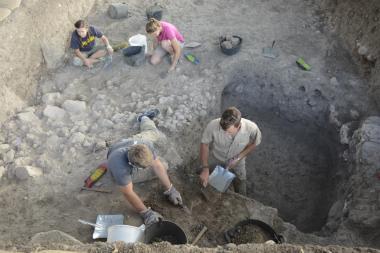 For more than 60 years, groups of Wheaton College students have spent their summers unearthing the past in the Holy Land. This summer, for the fourth year, Wheaton has teamed up with Tel Aviv University and the Museum of the Bible on the Tel Shimron Excavation, located in Northern Israel's Galilee region.
"The Tel Shimron excavations involve dozens of scholars from around the globe who come to Tel Shimron to do original research on ancient history," said Wheaton College Archaeology Professor Dr. Daniel Master, who also serves as the trip's program leader.
"Students are involved hands-on in digging up the clues that historians and anthropologists use to reconstruct ancient cultures, including the cultures that produced the Bible."
Wheaton students typically spend about 10 hours a day at the dig site, where they're joined by scholars and students from institutions from around the world. This summer, students are exploring a new area on the acropolis to investigate some elite buildings from four thousand years ago, according to Dr. Master said. "One group will also investigate a Jewish village from the time of Jesus, and yet another group will try to investigate how Tel Shimron interacted with the Hellenistic world of the third to second centuries B.C."
The six-week dig entails a lot of early mornings. Most days, students will get up before dawn to beat the heat of the day. The first job of the day is to haul their tools to the excavation sites and separate into small groups to excavate 100-by-100 meter plots called "grids." Those are then broken into smaller 10-by-10-meter plots called "squares."
Although the excavation requires long, hot days in the desert, there's a lot of fun and camaraderie too. From singing the "Circle of Life" as the sun rises over the Jezreel Valley with fellow excavators to competing in pickax contests, "inside jokes and joy abound," according Valerie Tewell '18.
Tewell, now a graduate student at Texas Tech University, has returned to the dig for the fourth time this summer. By the end of the summer, she will have spent more than six months at the site, participating in the student program and then coming on staff.
"There is no feeling like being on site in Israel and a part of uncovering history," she said. "Those Jezreel Valley views, breezes, and Mediterranean meals certainly don't hurt either."--Lyndi Tsering