This summer, the Wheaton College Conservatory of Music is hosting a Music Camp geared to upcoming ninth through twelfth graders.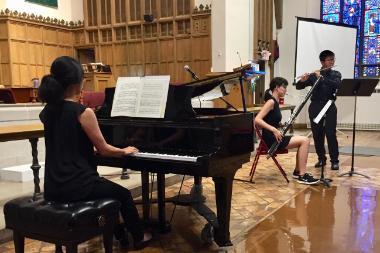 For the fifth year, the Conservatory of Music will host an overnight Music Camp for high school-age musicians. The summer camp will feature eight days of private lessons, master classes and ensemble experiences.
"In partnership with the Wheaton College Conservatory of Music, the goal of Music Camp is to provide tools to guide young artists as they grow in their faith and understanding of what it means to be a Christian musician," said Wheaton College Director of Performance Studies and Professor of Music Mary Hopper. "With students coming from all over the world, this camp is truly a unique experience for young musicians who are considering advanced music study."
A typical day at Music Camp starts with breakfast at Wheaton College's award-winning dining hall, Cafe Bon Appétit, followed by chapel service or devotions. Next might come a movement class taught by Jill Burlingame Tsekouras, who specializes in the Alexander Technique, which promotes body well-being through postures, breathing and movements.
"With these techniques, musicians move with greater strength and flexibility as well as protect their health and future performance ability," said Tsekouras.
Students will get to hear daily lectures from experts on topics ranging from music history to tips for college auditions. After lunch, students will take afternoon lessons in the concentration of their choice, including vocal, strings, piano, woodwind, brass and percussion. The afternoon will also afford time for practice, chamber music and theory classes, which are aimed at challenging students to think more critically and creatively about the music they play and write.
Dinner and evening activities, such as tours of downtown Wheaton and game nights, will round out a typical day at Music Camp. The experience also includes a day in Chicago, in which students might tour the Art Institute, spend time in Millennium Park, and enjoy a Grant Park Symphony concert.
One student, who attended the camp in 2017, had this to say about her experience: "Wheaton Music Camp was one of the best weeks of my life. It was amazing to spend the week not only growing in my music ability, but also living with a group of people who all share a common passion for music and Christ."
Music Camp runs from Sunday, June 23 to Sunday, June 30. Students will enjoy staying in the College's residence halls and eating meals in its Cafe Bon Appétit dining hall. For additional questions, please email music.camp@wheaton.edu or call 630.752.5097.