Earlier this semester, Wheaton College sophomores gathered to declare their intended majors at an event called Declaration Dinner.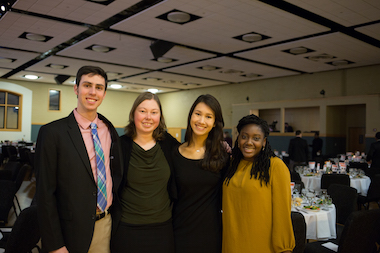 Hosted by the Center for Vocation and Career (CVC), Wheaton College's "Declaration Dinner" is a time for sophomores to mark a major rite of passage—declaring one's major. The dinner is the culminating event of the CVC's five-part Canvas program, which aims to guide students through the process of exploring their vocation and career.
"Declaration Dinner is really a celebration of the fact that they've declared their major, which we consider a major milestone in their college career," said CVC Director Dee Pierce. "It's really the first big decision they make after deciding where to go to college."
This year, with nearly half of the class of 2021 in attendance at the Declaration Dinner, the participation in the entire Canvas series jumped to 62.5% from just over 50% the two previous years. This increase mirrors the involvement in the CVC's Canvas program, which launched in 2015.
For student Rachel Barron, Canvas provided community. "Before Canvas, I often felt alone in the process of exploring career paths," she said. "Even though I had been actively exploring these options before Canvas, it was completely different to experience the journey with peers who can encourage each other."
One of Lyndi Tsering's favorite elements of the program was the "opportunity to talk with upperclassmen about their current career trajectories, internships, and how they balance their vocational pursuits at Wheaton with job-seeking for the future," she said.
After Canvas meetings during the fall semester on everything from how one's faith connects with career and how one's experiences, interests, and dreams can inform one's vocation choice, spring semester's Declaration Dinner was all about celebrating. Students sat at tables with peers and faculty related to their chosen major, and they enjoyed an inspiring keynote from Dr. Kirk Farney, Vice President for Advancement, Vocation, and Alumni Engagement. They also had the option of getting their photos taken in a photo booth with career-related props and small whiteboards, where they could scribble down their intended majors.
"Tonight has made my future more real," said Naissa Charles, after Declaration Dinner wrapped up. "What I am studying is going to be something I will be doing for possibly the rest of my life. I cannot wait to see what God is going to use me for through what I have decided to major in. Tonight I have made one choice, but it is the start of endless possibilities."—Emily Bratcher