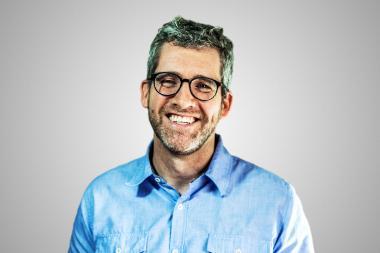 Kent Annan, co-founder of nonprofit Haiti Partners, recently joined Wheaton's (HDI) as a Senior Fellow.
In this role, Annan will work closely with HDI founder and Executive Director Dr. Jamie Aten to provide leadership and vision-casting for existing HDI initiatives. He will also support, mentor, and train students enrolled in HDI's newly launched M.A. in Humanitarian and Disaster Leadership.
"At HDI, we want to train and raise up humanitarian and disaster leaders," Aten says. "Kent is one of the leading humanitarian voices in the Christian community. He's been a global servant-leader for over 20 years. Our Humanitarian and Disaster Leadership students will not only gain experience from the rich academics and research, but will also get to learn from recognized experts like Kent who have done on-the-ground work as a career."
Annan, who earned a B.A. from Palm Beach Atlantic University and an M.Div. from Princeton Theological Seminary, served most recently as the co-director of Haiti Partners, a nonprofit that focuses on education in Haiti.
"As a Senior Fellow at HDI, I will continue to work with Haiti Partners in our mission to 'help Haitians change Haiti through education,'" says Annan. "My work with Haitian colleagues and with HDI complements each other, so that my contribution to HDI is anchored in practical experience. I'll be able to keep serving a country I love where there is also lots of need."
Annan is also on the board of directors of Equitas Group, a philanthropic foundation that focuses on ending child exploitation in both Haiti and Southeast Asia. He has written several books, including the award-winning Slow Kingdom Coming: Practices for Doing Justice, Loving Mercy, and Walking Humbly in the World. His writings have appeared in publications including Christianity Today, Utne Reader, Natural Bridge, Sojourners, and Orion.
"I plan to bring my experience, writing, and relationships to this opportunity. My vocation fits squarely in the mission of HDI and the new HDL program," Annan says. "To partner with excellent colleagues is an honor. To serve the church and the world through what we're doing at HDI is wonderful, humbling, and exciting."
The Humanitarian and Disaster Institute is the first faith-based academic disaster research center in the country. More information about HDI, and the new M.A. in Humanitarian and Disaster Leadership, is available at wheaton.edu/hdi .