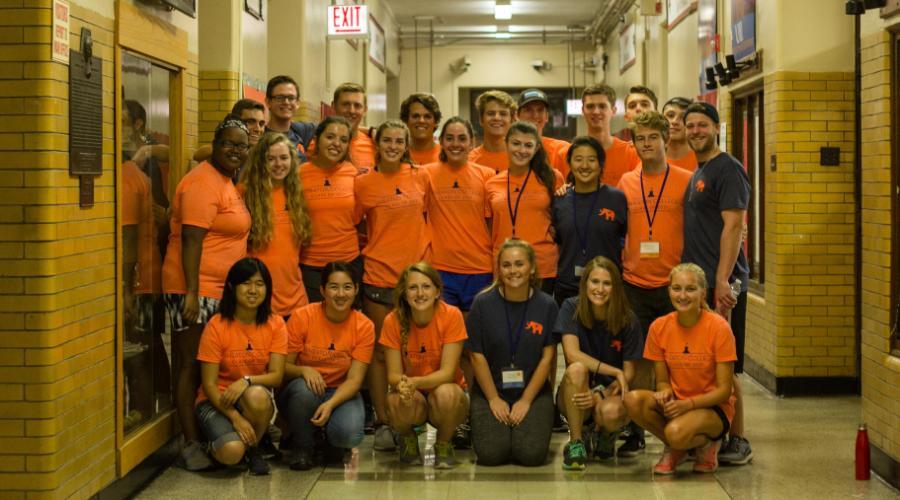 At Wheaton College, New Student Orientation is about more than kicking off the school year and learning the College's values. It's about living them out together. Since service is such an essential value at Wheaton, freshman and transfer students learn that Community Service Day is one of the first events on the agenda for the school year.
On August 21, more than 600 students participated in Community Service Day, partnering with 20 organizations in Chicago to meet various needs in locations ranging from community gardens to schools to downtown warehouses.
"I saw the power in how much work you can get done for someone when you work together," says freshman Nathan Varberg. "It was a great way to help the city and to also get to meet new classmates and serve alongside them."
Although Community Service Day is part of orientation, it isn't only for new students. Junior Amanda Shim volunteered as a GoGuide—an upperclassman who offers leadership while working alongside new students.
"It can be easy to think that Community Service Day is just a one-day event. But even though we're only there for a day, it's amazing how much help we can give just that day," Shim says. "Plus, I believe God will make use of our service in ways that we may not necessarily be able to see immediately."
Community Service Day began in August 2011, when the Orientation Committee—part of the Student Engagement office at Wheaton—decided to retool Wheaton's previous orientation program, "Big Sibs."
"Community Service Day was created in response to what we saw happening in the Big Sibs program. Students would go into the city for a day to explore Chicago for entertainment and food," says Dean for Student Engagement Dr. Steve Ivester. "We wanted to introduce students to the needs of the city instead of just providing entertainment. We wanted to set a vision for students to see what it means to love others as a response of loving Jesus, and to inspire them to have a long-term view of service."
The shift in focus from entertainment to service has helped students understand the heart and vision of the Wheaton College.
"I saw how servanthood is at the heart of our identity as an institution," Varberg says. "Community Service Day stresses the importance that Wheaton puts on intentional community and service."
"Service is at the heart of the mission of the College," Ivester says. "To cast a vision right at the beginning of the students' career at the college sets the priority of giving one's life for the sake of another, which allows us to really create and continue Wheaton's rich heritage of connecting with society and advancing the gospel in a real tangible, physical way."
As for next year's incoming freshmen? Shim is quick to encourage all students to not miss out on this opportunity. "Devoting a full day of service after a long week of orientation can be hard, but service is a really great way to experience God. With Community Service Day, you not only get to experience God personally, but together."
To learn more about the ways Wheaton students learn through service, visit the Office of Christian Outreach at wheaton.edu/oco.