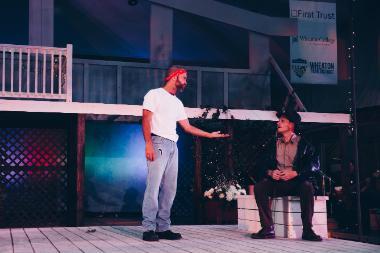 More than 3,000 Wheaton residents were recently transported from Memorial Park to Messina, Italy, thanks to a partnership between Wheaton College's Arena Theater and the Wheaton Park District to present Shakespeare's "Much Ado About Nothing."
For five years, the two organizations have collaborated to produce a Shakespeare in the Park production, combining efforts to bring a free, professional-quality show to the community in late August.
The performance pairs Wheaton College alumni-turned-professional-actors from across the country with current Arena Theater students to star in the two-day show. This year, the event took place August 26 and 27.
This year's play, "Much Ado About Nothing," reimagined the setting of the 17th-century production in the 1980s, to the delight of the audience. It included popular music from that era.
"There was a lot of general recognition from the audience from people when AHA or The Police, or Queen, or Tears for Fears came on," says Arena Theater Faculty and Producer Andy Mangin.
New this year was a puppet show, devised and performed by students, that introduced the program to the children in attendance.
Mangin says the Shakespeare in Park production, which included the largest cast since its beginning in 2013, has benefits for individual cast members and for the College's educational aims.
"Graduates who are professional actors come from New York, from Dallas, and other cities to work with our undergrads," he says. "They tell their stories, the two groups get contact and community with each other, and our students get the chance to work with people who are ahead of them professionally."
Mangin calls the collaboration with the Wheaton Park District—and the resulting opportunity to perform for the community—the "secret sauce" that makes the project successful.
"In addition to our educational process, we're able to give this gift to the city," Mangin says. "The result is this wonderful show in the park that the community in Wheaton loves. Every year it grows, and it's become a staple of the summer in downtown Wheaton.
Kristina Nemetz, Superintendent of Marketing & Special Events at the Wheaton Park District, says the production tells an even larger story.
"The Wheaton Park District and Wheaton College coming together to form this partnership is a testament to the strong culture and history of the Wheaton Community," she says. "This production is a compilation of many man-hours--from preparing the park for the more than 3,000 guests, the staging, sound and light that brings the park alive, concessions, marketing and fundraising! The Park District is proud to be part of something so well-received."
Mangin says that planning for next year's event is already underway, but there's an interesting challenge ahead. "We're starting to run out of comedies," he laughs, "so we'll have to figure that out for the future."
For more information about upcoming Arena Theatre performances, visit wheaton.edu/arena-theater.