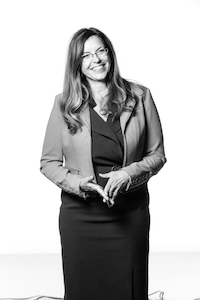 Most people juggle their time between their professional careers and their personal passions. For psychology professor Dr. Sally Schwer Canning, who has taught at Wheaton College since 1994, the two are one and the same.
When she is not teaching, Canning conducts research and provides clinical services for underserved women and children in Chicago. She also advocates for a collaborative behavioral health care model within faith-based primary care clinics like Lawndale Christian Health Center, where she has served for more than a decade.
In August, the American Psychological Association's Committee on Women in Psychology recognized Canning's commitment to her field with its Distinguished Leader for Women in Psychology Award. The annual award recognizes individuals for their leadership in psychology, especially in research, policy, and improving clinical care for women. Canning received the award at the APA's annual convention.
The theme for this year's award was "Being Bold."
"I'm very energized by the idea of our work being seen as bold, and want to continue being bold in what I do at Lawndale and through our psychology programs at Wheaton," Canning says.
"To work toward the well-being of people in poor communities, and to increase access to quality mental health care in underserved communities, especially women and children, we need to be bold," she adds. "I'm grateful to my two institutions because being bold is exactly what their missions are about."
Canning was nominated by Dr. Casey Clary, Director of Behavioral Health at Lawndale Christian Health Center. Dr. Terri Watson, Associate Dean and Associate Professor of Psychology at Wheaton College, Dr. Neftali Serrano, a Wheaton College Psy.D. graduate who is Executive Director of The Collaborative Family Healthcare Association, and Steve Noblett, Executive Director of Christian Community Health Fellowship, provided references in support of her nomination.
"As Dr. Canning's colleagues in the School of Psychology, Counseling, and Family Therapy, we are thrilled with this public recognition of her many years of competent and creative care for women in underserved communities," Watson says. "Her faithful and fervent commitment has shaped our Psy.D. program mission and vision, and has had an important and lasting impact on students and colleagues. She is truly an inspiration to all of us!"
While the award honors Canning's leadership, she credits her supportive and tireless colleagues in Lawndale. "When I returned to the clinic, my entire care team surrounded me and celebrated. It was deeply encouraging to see their joy and to share this recognition with them," she says.
"I see this as our award. It's not so much about me as it is a testimony to the value of the work, the people, and the communities we serve. It's very demanding work, but tremendously rewarding. That's what makes me want to press on, and to continue training students to go out and do what God has called them to, as well."
Canning's advice to aspiring and early career psychologists? "Persist. Persist in your calling. Persist in your vocation. Just persist as the person you are for the people that you are called to."
The Wheaton College Psy.D. Program is one of six APA-accredited Christian doctoral programs in clinical psychology in the United States. For more information, visit wheaton.edu/psyd.