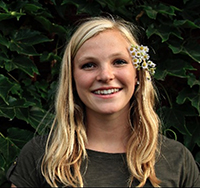 Degree(s): English Writing
Extracurricular Activities: Women's Varsity Swim Team, Wheaton College Undergraduate Law Review
Favorite Wheaton professor and why: Dr. Chris Keil because of his passion for justice within the context of environmental science and his deep commitment to the development of his students.
Why you came to Wheaton: I came to Wheaton to pursue a transformational education that would nourish my soul and challenge me academically. I felt at home in Wheaton's loving and selfless community inspired by Christ's sacrifice.
Favorite quote: "Fear kills more dreams than failure ever will" // Suzy Kassem
Post: "Wheaton College Science Station: in the Black Hills of South Dakota"