Posted July 19, 2017 by
Tags: #MyWheaton Global and Experiential Learning The Liberal Arts
Wheaton College Science Station: in the Black Hills of South Dakota
This past month I experienced the blessing of studying at Wheaton's Science Station in the Black Hills of South Dakota. Upon first hearing about summer programs in the Hills, I figured the General Education sequence would be an easy and fun way to satisfy my science requirements. However, my time at the Station transformed into something much more.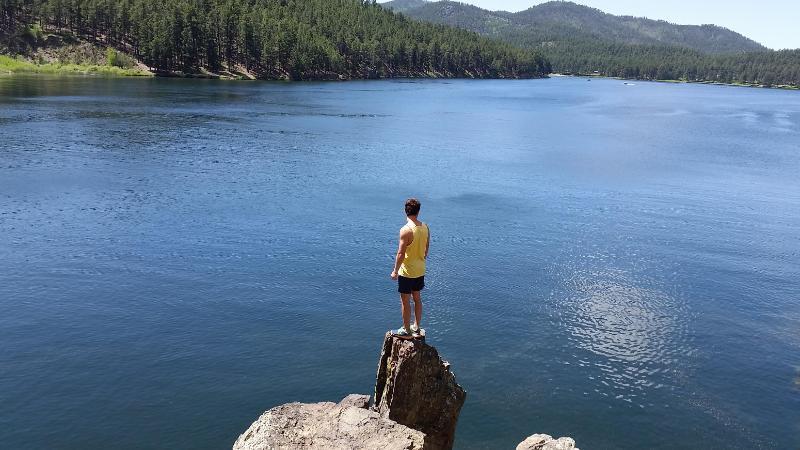 The Black Hills provide an incredibly unique location to experience Christ-centered community, to learn from knowledgeable and loving professors, and to witness God's provision and power firsthand in natural wonders. Studying at the Science Station allows for a range of educational opportunities, such as observing wildlife in Custer State Park and learning about the geological formations of the Badlands.
This summer, two classes were offered for the month of June: BIO 242: Diversity of Life and CORE 325: Nature, Environment, and Society. Biology professors led students in detailed study of local biological networks and organisms, and CORE offered us a chance to learn about environmental problems from a Christian perspective. After taking CORE 101: Living in God's Creation during my first semester with Dr. Chris Keil, I opted to take Dr. Keil's environmental science advanced seminar to engage in further study of creation care from a Christian perspective.
Our class, composed of eight students, experienced a tight-knit community in which all voices were heard. In this science seminar, we applied our learning by discussing appropriate Christian responses to contemporary environmental problems. Alongside Dr. Keil and other classmates, I was led to consider very important, yet often ignored, ecological issues. These issues ranged from water rights for people groups experiencing water shortages to land rights for Native Americans who believe the Black Hills form a sacred space to proper wildlife management.
Though the course content did not directly relate to my major or my vision to become a book editor, it reflected my motivation to attend Wheaton: to pursue an education for my mind, heart, and soul. Socio-environmental issues covered in the course refined my fundamental beliefs. Aware of contemporary issues yet encouraged in heart, I am emboldened to embrace Dr. Keil's motto of "living simply" in order to reduce my footprint on the environment. Studying in the Hills ignited my desire to care for all creation as an extension of my love for God and neighbor. I am beyond grateful for this precious time that God granted me to appreciate his creation with brothers and sisters in Christ. May we all experience such a transformational education, characterized by a new understanding of Christ's love for all creation.
Liz George '20 is studying English Writing and took general education course requirements at Wheaton's Science Station in the Black Hills during summer 2017. Photo captions (from top): Cliff jumping at Sheridan Lake with classmates; a view of Devils Tower; Wheaton in the Black Hills students visit Crazy Horse.
Learn more about Wheaton in the Black Hills. To learn more about Wheaton, connect with us or schedule a visit today