Kendall Eitreim '15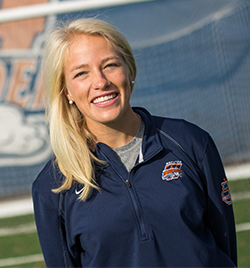 Major(s): Interpersonal Communication

Class Year: Senior

Hometown: Excelsior, MN
Extracurricular Involvement: Wheaton women's varsity soccer, YoungLife
What are you most looking forward to during senior year?: I am looking forward to having a "final" year with friends. The sense of urgency and "lasts" creates a more intentional time to soak up the remaining time with friends.

Post-grad plans: As of right now, I am trying to slowly zero in on what I want to do and figure out how to balance the practical reality of needing a job/income but also wanting to find something I truly love to do and am excited about! There are so many options out there--it is overwhelming to say the least. However, that being said, I am looking to pursue sales/marketing/advertising. I'll see where it takes me!
Post: " Beyond the Turf"