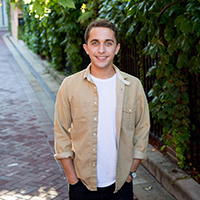 Majors: Art and Spanish
Extracurricular Activities: Co-Public Relations manager for Solidarity Cabinet. Koinonia. Running, painting, and making coffee.
Favorite Spot on Campus: I love having people over in my room to make them coffee or tea and hang out. We talk a lot about how to be a good host in Community Art and I like to practice these things when I have friends over.
Favorite Professor: I have two: Dr. Vlachos–I had him for summer school at HoneyRock. He has some of the most amazing stories and he made me view the New Testament in a whole new way. Professor Sheesley–he helped me see color like I hadn't before and made me believe that I could be a painter.
Favorite Quote: "I wonder how many people I've looked at all my life and never seen." -John Steinbeck
Post: " Ministry and Healing Through Wheaton's Community Art Program"