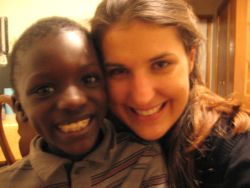 I was an International Relations and German double major.
I interned at World Relief in public aid and with family reunification immigration programs during the summer of 2008. During the fall and winter I returned to the Philadelphia area and volunteered in refugee resettlement through Lutheran Children and Family Services.
Next year I will be teaching in a private language school in Seoul, South Korea.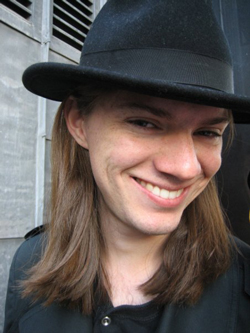 I graduated from Wheaton in '08 with a Philosophy/German double major.
My main job is at the company Agentrics in Chicago. There I am a customer support agent for our German-speaking customers, a few major retailers from Germany and Switzerland. We help them as needed with software problems as well as doing market research.
I also teach the fifth grade class at the Donauschwaben Society in Des Plaines and am a private tutor at the firm Nurturing Wisdom Tutoring Company.
I started taking German sophomore year to complement my philosophy major, but then I met my fiancé Jill in my junior year and our shared love of German encouraged me to make it my second major halfway through my senior year.
Thanks to Wheaton in Germany and Dr. Shaffer's Independent Study/The Literature Breakfast club, I somehow pulled off the double major.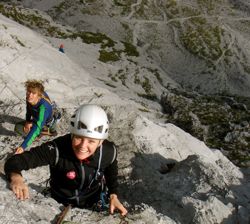 After graduating from Wheaton with a German major, I enrolled in the German Studies Master's program at Middlebury College. I spent 3 semesters (one at the Middlebury Campus, two in Mainz, Germany) fine tuning my language skills, but more importantly gaining a deeper, richer understanding of German culture. In short, it was only a matter of weeks before I knew this experience would not merely end with a M.A. degree.
I decided to extend my stay in Germany and worked as a freelance English teacher at Inlingua Language School and at a local climbing and ski shop.
After about 2 years of living in Germany, I was offered a job in the U.S. with Keen Footwear as a Tech Representative. With a mix of excitement and sadness, I accepted the position and left Germany. I returned to the midwest, where I am currently working on the field for Keen. I have high hopes that, in the future, my work will lead me back again to Europe.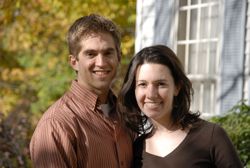 I'm Andrea. I graduated in 2006 from Wheaton with a major in Communication and a minor in German.
I started taking German classes in 7th grade because my grandma spoke German. I fell in love with the language and culture, particularly post-World War II history. I have visited Germany three times: once in high school, once with the Wheaton in Germany program, and once right after graduation when I worked with a church plant in Stuttgart. Some say the church is dying in Europe, but I saw for myself that Stuttgart has a thriving evangelical heart!
Since graduation I have been the Abstinence Education Coordinator at CareNet Pregnancy Services of DuPage. I love my job! I coordinate a youth development program, teach students, and train adults to do the same. Language and communication are pretty much what I do all day, everyday. Most of the time (okay, all of my work-related time) it has been in English. But I have run into the occasional German-speaker and I always love the chance to practice.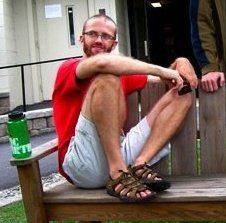 I work at Teavana in Pittsburgh, Pennsylvania as a tea salesperson.
A knowledge of German is helpful in the world of tea; the tea auction in Hamburg is one of the biggest tea auctions in the world. In fact, Germany procures the most first flush Darjeeling teas of any other country the world, these teas are considered by some to be the best black teas available (they're certainly the most expensive due to low supply and high demand.) The monetary value of Germany's tea industry is the same as Britain's, but because Germany drinks one-seventh the amount tea that Britain does, the value of tea consumed in Germany is seven times that of tea consumed in Britain. All of this leads a professional tea man like myself to have great respect for Germany, in addition to all other sources of respect for this great country.
I also work at a resort called Camp-of-the-Woods during the summers playing music in the 33 piece one-or-two-steps-below-professional orchestra, and a small and exciting jazz combo.
Occasionally I find customers who can speak German, and it's very enjoyable to chat with them in German. Also, I've been reading some German poetry from Goethe; his poem entitled "Sehnsucht" has inspired a literary renaissance in my life, and it's wonderful!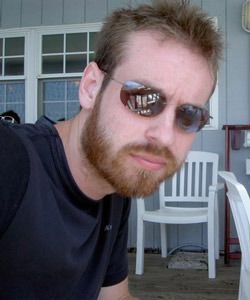 I am currently working on a Masters of Science in Applied Linguistics at the University of Edinburgh in Scotland. The focus is not on German; however, I still have many relationships that afford me the opportunity to keep up my German. I have not settled on a topic yet for my research, but I'm considering language used in the evangelical church.
When I completed my German major in 2005, I moved to Europe and received training in teaching English through a Cambridge University program. I received an offer to teach at a language school in Germany, which I accepted. I only intended to stay in Germany for a year, but ended up staying for 16 months. I taught managers and workers in many local businesses, including Daimler-Chrysler, Deutsche Telekom, Miro (the largest oil refinery in Germany), and many other technical and pharmaceutical companies.
The company provided me with a car, which made it easier to get involved in a local church. I played music for the local FeG (Free Evangelical Church) and had many good friendships with people in the congregation. When I moved to Germany, I was worried that I would not find a solid church, and by the end I felt like I was there to be a part of that church - teaching was just a job.
During my time there I made it a point to interact with the locals and to not get swept into the American groups. I left the language school, realizing that I needed to make the next step, but glad I had spent this time in Germany.
I am not sure what the future holds for me, but I am excited about the opportunities.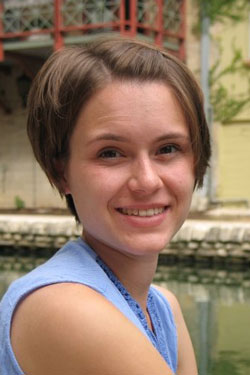 German started out only as a hobby for me. My family's German origins inspired me to revive the language that had been lost in my parents' generation. Once I started studying German, I just couldn't stop! I graduated from Wheaton in 2005 as a German major.
After graduation, I served as an intern with International Teams' refugee ministry in Traiskirchen, Austria for six weeks. I assisted at various programs, including Clothing Closet, Coffee House, and Computer Cafe, while building relationships with refugee women from Afghanistan, Iran and Nigeria through German and English language tutoring.
I am currently teaching Adult Basic Education: reading, writing and math for high school dropouts. The concepts of language learning that I acquired at Wheaton help me immensely in teaching my adult students to read and write fluently. In January 2009 I will begin a Masters in TESOL at La Salle University here in Philadelphia.
I enjoy meeting other German speakers and using my language and culture skills. Philadelphia has deep German roots that permeate the local culture and history. There are two German-speaking Lutheran churches in the city that my husband and I attend occasionally, and we sometimes participate in other German-language meet-up groups and activities in the area. When I have time, private lessons are a fun way to earn money and to keep up on my German. I have taught private German lessons from time to time for students ages 3 to 16 and classes for preschoolers at Immanuel German School and high schoolers at The German Society of Pennsylvania. I also worked as Administrative Assistant at The German Society.
My husband studied some German at the University of Pennsylvania, so we like to watch German films, speak together and read scripture in German.
Having learned a foreign language allows me to more easily learn an additional language, and to adjust more easily to other cultures. My husband and I live in a mostly Hispanic part of the city, but we are half a block from the local mosque where the large Arab Muslim population prays.
You'll never regret opening up your horizons to the fascinating diversity of our world, and increasingly, our neighborhoods, by studying a different language and culture!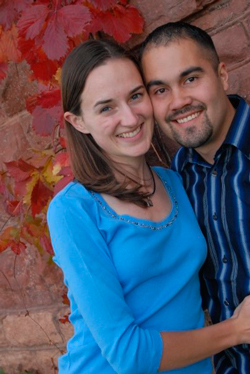 Life has been busy since I graduated from Wheaton, since moving to the Grand Canyon where I taught for 3.5 years, and now in my move to Arkansas, where I will be for at least the next year.
I got to use my German quite a bit when I lived in the Canyon, since there were many visitors from German-speaking countries. It was fun to also use it in my time with my students, teaching them phrases here and there.
Learning German has also helped me in teaching my students English, especially as I've gone on to pursue my masters degree in Teaching English to Speakers of Other Languages (TESOL), and with all the grammar courses that are a part of that.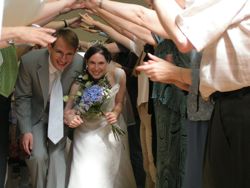 My name is Amy and my studies at Wheaton included a major in English and a minor in German.
For the past seven years I have been living in Russia, serving with a linguistics and translation organization. In 2007 I married Aleksei, who is Russian but was born in East Germany.
In high school I chose to study German because my family's heritage is in the Schwarzwald. When I entered Wheaton I declared math as my major, but in time switched to English literature (quite a change!). Though I wasn't sure which major to have, I was always certain I wanted a German minor. I couldn't imagine quitting my German studies.
During my years at Wheaton, God lead me through some amazing turns in my life's journey and opened doors I hadn't known existed. One of these new doors was the field of linguistics (part of the required courses for all foreign language minors was a course in Applied Linguistics). Linguistics is like math with words – a combination of my varied interests. I fell in love with linguistics and spent many a Friday night blissfully decoding the puzzles of languages!
For the first four years after graduating from Wheaton, I worked on a bilingual dictionary for a Central Asian Turkic-related language. The past two years I have been coordinating and teaching a 3-month cross-cultural living orientation for translation workers newly arrived in Eurasia. I get to share with them the all the wonderful history and culture of Russia, walk them through intensive Russian language learning, and introduce them to the over 150 non-Slavic people groups in the CIS who have their own unique languages, histories, cultures, and values.
As geographic location is becoming less of a barrier in our age of globalization, many optimistically assume that culture and language barriers are disappearing as well. But in fact we are bumping into the invisible barrier of culture all the more as our cross-cultural interaction increases. Culture is much more than just outward customs such as do you greet someone with a handshake, a hug, or a bow – it is deeply rooted values and a lens that tints how we perceive all of life. These values are difficult to articulate and recognize – much like a fish cannot see the water it swims in. We may have instant virtual communication with people from every corner of the globe, but it takes time and patience to truly connect with someone's culture. Life-changing, trust-filled relationships still require listening, an openness that your way of doing things is not the only way, and a desire to learn. Language and culture are intrinsically connected. The Russians even have a saying that the number of languages someone has learned is the number of times they have become a new person.
Putting in time and effort to learn someone else's language and culture rather than expect that they should learn your language and culture shows respect and builds trust. This applies to both the business world and to missions work. I encourage you to pursue language and culture learning – whether German or another language. Along the road to understanding people from another culture, you will discover more about the world we live in, yourself, and even experience God in new ways.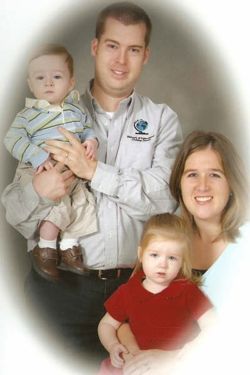 My name is Randy Lounds and I graduated in May of 2003 with a German major and Spanish minor. I completed the secondary education program at Wheaton as well.
I have been working in Uijongbu, South Korea at International Christian School since I graduated. My first three years I taught German and Spanish and I have been working as the secondary principal here at ICS ever since. I finished a Master of Science in Educational Leadership and Administration through Philadelphia Biblical University in December of 2007.
Originally I chose to study German in High School because the German teacher had the best reputation among the foreign language teachers at the school that I attended. I wanted to really learn a language, not just play around in a foreign language class for a couple years. With the help of this teacher I was able to earn an all expense paid summer trip to Germany through the AATG testing program. I considered this opportunity a gift from God and it was then that I knew that God had a plan to use the study of German in my life. I visited Germany one more time the summer before entering Wheaton knowing from the first day of college classes that I wanted German to be my major. I entered the teacher education program in my second semester with the plan to teach German in a public school. That was my focus for the majority of my studies and I added a Spanish minor to be a bit more marketable as a German/Spanish teacher. Having this combination allowed me to attend both the Wheaton in Germany and Wheaton in Spain programs, which helped to broaden my perspective of both of those cultures and allowed me to see some of the missionary work that was going on in those cultures.
My senior year I considered the possibility of teaching at an international school, having either teaching German in a Spanish speaking country or teaching Spanish in a German speaking country mostly in mind. During the second semester of my senior year the director of International Christian School - Uijongbu called me and interviewed me on the phone. He asked me how I felt about teaching German and Spanish in South Korea. I told him that I had never really though about an option like that. Over the next few weeks I felt God leading me to accept that offer and I have been working at ICS in Korea ever since.
I married Wendy in the summer of 2004 and we have three children.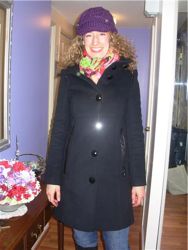 I came to Wheaton in 1998 with a focus on Biology, Kinesiology and Pre-Med, although Wheaton's German program was a factor in my school choice.
At the beginning, I only took German to fulfill my foreign language requirement, but I enjoyed it so much that it turned into a German minor. After the Wheaton in Germany trip, however, I decided to make it a second major; I am so very thankful that I made that choice!
After graduation in 2002, Dr. Shaffer managed to get me in to study at the Ludwig's Maximilian University (LMU) in Munich and I started a dual study program with Medicine at the LMU and Sport Science at the Technical University (TU). During hospital internships in Germany, I decided to step out of the Medicine program and continue with the Sport Science program. I finished studies in 2007 but had fallen in love with Germany. I stayed on teaching Pilates and working with private clients as a Holistic Health Consultant/Coach.
In 2008 I studied at the Institute for Integrative Nutrition in New York City and commuted between Munich and New York for class weekends, while continuing to work with clients in Munich. At the moment I am spending a time in Cambridge, Massachusetts with family, teaching and gaining some additional coaching/teaching skills before going back.
It is wonderful to enjoy time with family, but Germany now feels like home and I am eternally grateful for the role Dr. Shaffer has played in preparing me, developing and shaping who I have become today.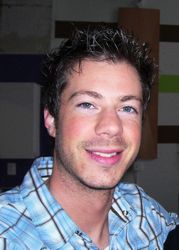 Hello. My name is Todd and I graduated in 2002 from Wheaton with a German major and a Chemistry minor. I decided to major in German because I wanted to explore foreign cultures as well as continue building on the German knowledge I already had.
One month after graduating from Wheaton I worked for nine weeks as an intern for HPP, Harnischeger, Pietsch & Partner GmbH, in Frankfurt am Main, Germany. I quickly realized how my German degree from Wheaton had adequately prepared me to take on this internship and daily activities in Germany. Dr. Shaffer's "German only" rule during Wheaton in Germany 2001, while aggravating at times, certainly paid off in the real world.
During the internship at HPP, I applied for and received a full time position as a check-in agent for Lufthansa airlines. In October 2002 I "officially" moved to Germany and started with Lufthansa at the Frankfurt airport. Again, the education I received at Wheaton, especially related to my field in German, prepared me to interview for and take on this job as well as function as a normal citizen in Germany. Many Germans complimented my knowledge of the language, history and culture. I would tell them of my studies at Wheaton and how it prepared me to live and work in Germany.
After a year and a half I felt God calling me to the mission field in Israel and, in preparation, I began to study modern and Biblical Hebrew at the Goethe Universität in Frankfurt. After a year of Hebrew study I moved from Germany to Israel and was a full time missionary for three years. You might not think that one could use German in Israel but I did… almost every day! I volunteered for an organization that hosted outreaches for believers from around the world. About forty percent of those participating in the outreaches were German speakers. Also, the director's wife was from Germany and it was often the language of choice between us. Besides that, many older Jewish people know some Yiddish, which is related to German, and thus allowed us to communicate.
In November 2008 I moved back to America and am currently working part time as a personal trainer and volunteering in ministry outreaches. I am not sure if my future will include using my German skills, but I'm thankful that I've been able to put them to good use thus far.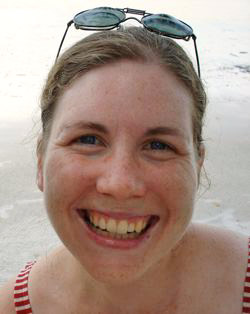 I graduated from Wheaton in 2000, with a double major in German and Political Science and a minor in Bible.
I'm currently self-employed as a grantwriting consultant for nonprofits. I live in Raleigh, NC, but I accept clients from all over the country. I have a JD and have interned in organizations in London, Geneva, Washington, D.C., and Iowa City. I have also worked as the director of a nonprofit based in Raleigh, NC. As a result, I have had the opportunity to work with such topics as religion and diplomacy; corporate social responsibility; child labor; gender issues in Germany; the right to work and property rights in Africa; orphan care and adoption.
I have formally studied French and Spanish and informally studied Russian and Korean. I initially chose to study German because my grandmother is German, and I am fascinated by the cultural and historical significance of the country. Because of my German Mennonite heritage, I have a number of German-speaking relatives, and I have become the family ambassador to those based in Paraguay and Germany.
However, I decided to make German my major because of its importance in the business, legal, and human rights fields. Even though I do not use my German in my current profession, it has helped me tremendously since graduation, and I never plan on abandoning it completely. Learning about another culture and IN another language is invaluable. My knowledge of church and world history, as well as business and politics, acquired a much greater depth than my peers because I studied it in German, in Germany. I have an additional level of understanding of outstanding literature and poetry, and even of the Bible, because I have read them in German. I have worked and traveled in Europe, Africa, Asia, and North and South America, and I have used my German to make connections in each of these regions.
In short, I believe majoring in German is one of the smartest decisions I have ever made.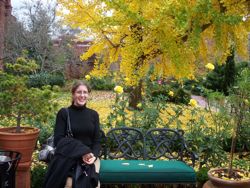 Hi, my name is Robin. I was a German major at Wheaton, and I graduated in 1998.
I am currently an autism resource specialist in a suburb of Washington, D.C. While not directly related to my studies as a German major, it was beneficial to learn how people acquire language, especially working with non-verbal students. It was also helpful to learn a second language because many of my students speak English as a second language. I can sympathize with how hard it is to learn a new language!
I think knowing about other cultures helps people relate to each other better and see situations from alternate points of view. One of the reasons I wanted to study German was to learn more about the world and how other people live. I also enjoy literature, so a German major was appealing.
While at Wheaton, I had the opportunity to do an internship with a history professor translating old letters written in German that were in a collection at the Wade center. It was quite an experience!
I continue to have an interest in language and culture, and over the years have studied basic Japanese, Spanish, and Italian. I currently use my German to pursue a hobby of mine: German-language opera.