Jon, '07
Currently, I am a medical student at the University of Wisconsin School of Medicine and Public Health.
While I was a student at Wheaton I majored in Economics and minored in Theology, Biology and German. My decision to pursue German studies was driven by my familial connections—my father is a German immigrant and his side of the family still resides in Germany.
I must honestly say that I have some of the fondest college memories and experiences from the German department—from participating in the Wheaton in Germany program to discussing German film in the home of Dr. Shaffer.
Indeed, I am grateful for the rewards reaped through my German studies. I have experienced deepened relationships with my extended family and gained confidence in my language skills to do something I always wanted to—share the Gospel with my grandfather.
Alisa, '05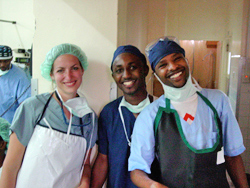 I am a medical student, currently in my 4th year and applying for a residency position in Obstetrics and Gynecology.
Since graduation, most of my experiences outside of formal school work have been medicine- or research-related. I have, however, had the opportunity to travel to India and to Kenya on medical mission trips. For at least one month of my time in Kenya I shared an apartment with five students from Northern Ireland, Wales, Germany and New Zealand. Needless to say, I was very thankful for my German language skills and knowledge of European culture.
I have also been able to translate for German tourists in the Emergency Room at our hospital and get to know some of the German graduate students studying at my school.
I decided to major in German at Wheaton in order to maintain and enhance the German language skills that I had learned in high school. My last formal German course had been in 10th grade and my German was getting rustier by the day. Looking back, the decision to study German was one of the best that I made in college. I learned a lot about German culture and literature, of course, but I also gained a rich appreciation for German and therefore European history and literature and its interpretation in general. The Wheaton in Germany program was also a great experience. Now, after having traveled to some additional continents, I appreciate all that I learned during the program, because it was part of our course work to actively experience the culture and history and reflect upon our experiences. The friends that I made through the Wheaton in Germany program and German courses at Wheaton are some of my best friends from college and I still keep in touch with them. And, of course, Dr. Shaffer is a wonderful professor!
This picture is one of my favorites from my time in Kenya. Two of the Kenyan interns and I were taking a quick break between c-sections.
Carolyn, '03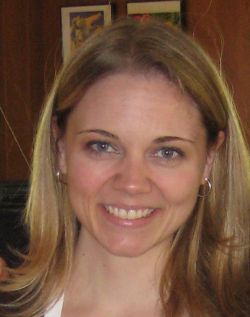 I graduated from Wheaton in 2003 with a double major in German and Music.
I am currently a speech-language pathologist working at a University-affiliated hospital, seeing both inpatients and outpatients. My caseload consists of patients who have suffered a stroke or other brain injury, for whom I provide speech and language therapy, treatment for cognitive-linguistic deficits, and treatment for swallowing disorders. I also treat patients with voice, neurodegenerative, or fluency disorders. We have a large population of patients with head and neck cancer that we see for swallowing difficulty after radiation treatment as well. A new population we are targeting is foreign physicians completing their residency programs in the U.S. who desire to work on accent reduction.
I completed a two-year Masters program in Communication Disorders and Deaf Education in 2007. During my graduate program, I taught a phonetics lab as part of a Graduate Assistant position. Taking Linguistics at Wheaton as part of the requirements for the German major definitely played a role in obtaining this assistantship in graduate school.
Developing an ear for language in general through my undergraduate degree in German has helped me throughout my graduate studies and professionally on a daily basis. Having an awareness of cultural values other than my own has also been beneficial to me in providing culturally sensitive patient care.