Davita, '08
When I haphazardly enrolled in a German class during my freshman year at Wheaton, I wasn't expecting to stick around for all four years!
On our first day of class, I was struck by Herr Shaffer's challenge to us. "Learning another language is an act of love," he said.
Immediately, my loved ones in Switzerland came to mind. Perhaps a mastery of the German language, culture, history, and anthropology would show them that I cared... It might convince them that their stories were remembered, and that they were dear to my heart.
Lest you assume that this was a grueling, self-sacrificing decision on my part, mastering German was fun! Our gifted professors brought humor and insight into the classroom. I found the study of German at once challenging and incredibly rewarding. To read German literature -- in its original prose -- is to stand on the shoulders of giants. There were so many fables...dramas...incredible tales that reached across the ages and into our classrooms, and taught us how to think. Berthold Brecht's epic theater piece, Der Gute Mensch von Sezuan, prompted our class to debate, "What does it take to be a 'good' person?" Martin Luther's Von der Freiheit eines Christenmenschen spurred us on, as we discoursed theology. And Goethe's tragic play, Faust, warned us to keep our desires and values in check. Perhaps most impactful was Max Frisch's commentary on Nazism and Communism, Biedermann und die Brandstifter. It still causes me to ponder, "When should I trust a stranger? How do I acquire the discernment to keep modern-day 'arsonists' at bay? As a young leader, will I give way to crafty persuasion and false ideology, or will I stand firm?"
The list of profound lessons learned through German literature goes on; the books I read in German classes will inspire, haunt, and guide me for years to come. I hope to pass these lessons and stories on to others. And maybe I will move back to a German-speaking country one day. While there, I will use the German language to demonstrate love. Thanks to my German professors, I won't be speaking the language of tourists.
Astrid, '97
I chose to study German at Wheaton because I was interested in the language and culture, a decision that was confirmed when I participated in Wheaton in Germany after my freshman year (1994).
After graduating from Wheaton in 1997, I earned my Master's in Divinity from Yale Divinity School, where my facility with German was especially helpful in my study of church history and Biblical studies.
After that, I became an Episcopal priest, and worked in churches in Ohio and New York City before starting my current job as the vicar of a small Episcopal church in the Hudson Valley. On the side, I also write on politics and religion for magazines like Slate, the Huffington Post, Nerve and Salon.
Matt, '00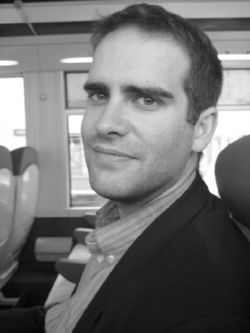 I'm Matt. I graduated in 2000 with a double major in German and Political Science.
I grew up in France as a missionary kid and had been taking German (and loving it) since 6th grade. At Wheaton, I felt a strong desire to take German classes. I was impressed with the course offerings and was grateful for the opportunity to improve my German and get a real taste of German literature and culture.
Thanks to Dr. Shaffer's help, during my senior year, I applied and was accepted to the Bundestag Internship Program (Internationale Parlaments-Praktika) for the year after graduation. I was one of 20 American students (mostly recent grads such as myself) to participate in a year of study at the Humboldt Universität and work at the German parliament (one semester of each). It was a wonderful experience that I will never forget. I highly recommend this program for anyone double majoring in German and Political Science / International Relations or Economics.
During my year in Berlin, I applied and was accepted to the Institute of Political Studies in Paris, where I got a master's in Political Science. I took a couple of master's classes in German. My life and career later took on an unexpected turn when I eventually decided to train for pastoral ministry in Europe, and went to seminary in France.
Since February 2008, I have been assistant pastor of a Baptist church in Paris, Central Paris Evangelical Baptist Church. I also work part-time at the seminary where I studied – the Free Evangelical Theological Seminary – as coordinator of their distance learning department, and I teach a theological English class there.
My experience majoring in German helped to have a broader view of Europe rather than a merely 'French perspective' on the Old Continent. This was obviously useful in my former line of studies and work, but it also is in ministry. It is an advantage for me to have access to theological resources in German. On a more down to earth level, we often have German students visiting our church. In my German major that I felt like the concept of integration of faith and learning was most successful and enriching.