Will, '03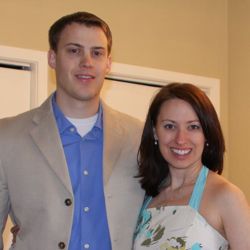 My name is Will. I graduated from Wheaton in 2003 with a History major and a German minor.
I currently work as a corporate attorney at a law firm in Boston. Although I do not currently use German as a regular part of my job, I have found it very useful when I travel overseas.
Wheaton in Germany was one of the most formative experiences of my college career. With Dr. Shaffer's encouragement, I immersed myself in the culture to a greater extent than I ever had before. During the family stay at the end of the summer I found myself forgetting that I was speaking a foreign language and conversations with my host family felt almost like visiting friends in the U.S. I also greatly appreciated Dr. Shaffer's investment in my success as a student and even now, six years after I graduated from college, we continue to stay in touch.
Josh, '02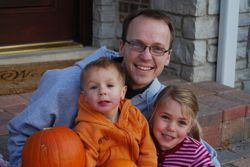 My name is Josh Heidelman, and I graduated in 2002. I double majored in English and Political Science, and I minored in German.
After Wheaton, I went to Notre Dame for law school, and I am now in private practice at a large firm in Chicago.
One of the more pleasant surprises of the last four years has been how often my German skills have been needed. Word traveled pretty quickly after I joined the firm that I knew German, and as a result, I have had several opportunities over the last four years to use my German skills directly to assist clients and cases. In one case in particular, our case theory turned on a few dozen documents, all of which were in German, and I was the only German speaker on the case. Needless to say, my skills were very valuable at that time.
I first took German because I had to -- I only tested into 201 as a freshman. When I found that I enjoyed it, I began taking additional classes on an elective basis. Soon, it occurred to me that if I was going to take all of these classes anyway, I might as well complete a minor. It was a very natural progression, and looking back, I am very glad I did it.
Kevin, '03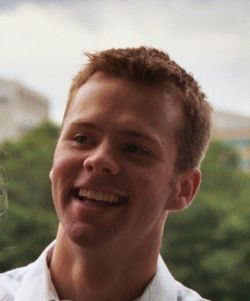 I graduated from Wheaton in 2003 with a Political Science and German double major. In December, 2008, I graduated from Seattle University School of Law and recently passed the Bar exam in Washington. I will be joining the Air Force JAG Corps later this summer.
I initially took German at Wheaton because I had studied it in high school. During my first German course, Dr. Shaffer advocated for the Wheaton-in-Germany trip which I decided to participate in. Based on the trip, I decided to add a major in German. It has proved to be a gratifying and rewarding decision on both a professional and personal level.
Since graduation from Wheaton, I have found my degree in German useful on many occasions. The first came the summer after graduation when I worked at Siemens in Hoffman Estates where I was part of an international team working to implement a new system, including several native German speakers.
During law school, I interned with the International Criminal Tribunal for the former Yugoslavia in The Hague, Netherlands. My German language background greatly assisted me in communicating with native Dutch speakers and even understanding their culture despite the differences with German culture. I also traveled to Germany while living in The Hague and found the ability to speak the language invaluable as I acted as the tour guide for my family that had come to visit.
On a personal level, I continue to use German to speak with my children. I have an eight year old daughter, Tyra, and a two year old and one year old son, Isaiah and Oliver. My daughter attends German language courses, and my sons have picked up German as I speak it to them. It's exciting to see them be able to begin to communicate and understand more and more German.
I'm very glad for the opportunity to have studied German at Wheaton. It has opened up numerous doors, been practical on a professional level, and enhanced our family as my wife and children begin to learn to speak the language.