Changes to German Major
As of Fall 2023, the German major will no longer be offered. Students will still be able to choose German as a minor that will be an excellent complement to a variety of majors such as Biblical and Theological Studies, Business and Economics, Computer Science, International Relations, Political Science, English, History, Sociology, and many more.
Why Study German?
Few cultures have had a more profound or lasting influence on the history of the world or the church than Germany. Studying German will prepare you to observe, interpret, and participate in contemporary Austria, Germany, and Switzerland, and understand these societies' origins. You will also become skilled and comfortable using Europe's most widely spoken first language and gain the intercultural communication skills you need to thrive in our increasingly global society.
Why Study German at Wheaton College?
The German program at Wheaton offers a robust major and minor program that provides you with the opportunity to study the German language and culture through a distinctly Christian liberal arts framework. And with our close proximity to Chicago and its German immigrant population, you will have ample opportunities to interact with members of German communities just a train ride away.
Our dedicated and passionate faculty will get to know you personally and supplement the program according to your interests. Wheaton faculty also work to facilitate internships and service-learning opportunities for their students with businesses and political and ministry organizations in the U.S. and overseas.
Where to Find Us
Melissa Elliot, Ph.D.
Wyngarden 203 | 630-752-5703

Clinton Shaffer, Ph.D. – Section Coordinator
Wyngarden 202 | 630-752-5791
For general inquiries on the German Studies program, please reach out to Dr. Clint Shaffer, the section coordinator.
What Will I Learn?
Wheaton College offers a German Major and a German Studies Major. The German and German Studies majors equip students to acquire and develop proficiency in Europe's most widely spoken first language and to cultivate the intercultural communication skills necessary in an increasingly global society.
Both majors include 32 total credit hours with at least 24 credit hours in German language and culture courses. The German major requires 8-12 credits at the 100-200 level, and 20-24 credits at the 300-400 level. For both majors a period of study abroad in a German-speaking country is also required either through participation in the eight-week long Wheaton in Germany program or by completing an equivalent semester abroad program with an accredited academic institution.
The German minor is a great companion to enhance many other majors such as business economics, health professions, art, history, theology, and many more.
Requirements for a minor in German are 20 credit hours of German language and culture courses: 8-12 credits at the 100-200 level, and 8-12 credits at the 300-400 level.
For a minor in German Studies students must complete 20 hours.
Through in-class learning and out-of-class activities such as Stammtisch (German Table) and study abroad through a program such as Wheaton in Germany, you will have many opportunities to hone your skills in speaking, reading, and writing German.
Through dynamic on- and off-campus instruction in German history, religion, literature, politics, business, and culture, you will develop an in-depth understanding of the rich culture(s) of German-speaking countries.

"My German major helped me understand the cultural nuances and differences between Germany and Americans...(including) 'German directness' and the importance Germans place on attention to detail and thoroughness. This was very useful when I conversed with my German clients and colleagues." - Travis, Business/Economics and German double major, '06
As you study the history and culture of the German people, you'll gain a broader perspective on global Christianity. You'll be prepared to serve the global church by fostering diverse expressions of Christianity that you encounter through the German program, and you'll be encouraged to view your own Christian identity through a new lens.
"The church my German host family attended was very similar to a church that I had been attending while in college in terms of the music and style of worship. It was really neat to sing some of the same songs that we sang in English but in German, as well as learn some new songs, and to really get into the spiritual side of the culture and language." - German alumna Melissa Gehrlein Harden
Opportunities for German Majors
Wheaton in Germany is a summer study program that will enable you to build your language proficiency in German, deepen your learning through visits to sites of historical interest, and develop your intercultural competence through interactions with native speakers. Based in Munich and Berlin, the program also includes side travel to other German cities and Vienna, Austria.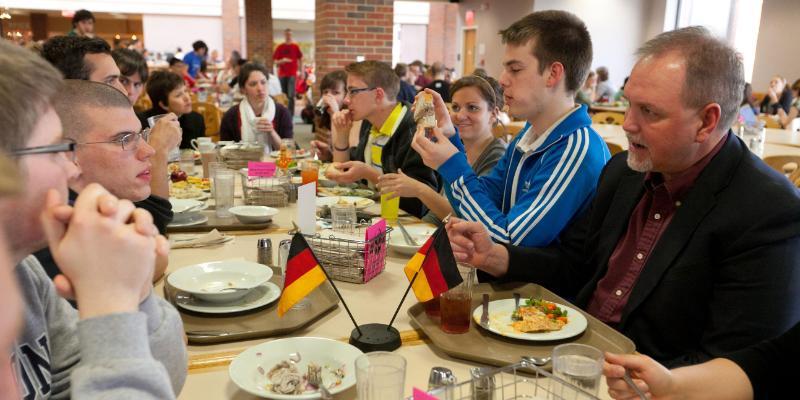 Stammtisch, or German table, is a weekly dinner shared among students and enthusiasts of German language and culture.
Join the German Club to help the Wheaton community learn about German culture and language through intercultural experiences, practicing German conversation together, and connecting students who share a common interest in Germanic studies.
Edie Shaffer German Studies Scholarship: a merit-need award for students participating in the Wheaton in Germany program, a semester abroad program in a German-speaking country, or another off-campus German Studies learning experience.
Lieselotte Lenz Shuster German Studies Scholarship: a merit-need award for undergraduate students majoring or minoring in German Studies at Wheaton College or who are participating in a Wheaton College approved, for-credit German studies focused program of study, either in the U.S. or abroad.