Wheaton College encourages enrollment of off campus courses that introduce students to real world situations where they can learn the principles and practices of their academic disciplines.
Domestic Off-Campus Learning Experiences
Wheaton College Science Station
Wheaton in the Black Hills offers the College's longest running off-campus program on a park-like 50 acres in the Black Hills of South Dakota. Students can take intensive courses in ecology, plant biology and zoology, studying ecological systems and the organisms that have domains in them. The diversity of habitats is great, ranging from mixed grass prairies to oak woodlands, pine forests and spruce forests. Taking one course at a time, students are truly immersed in learning about plants, animals, geology, and ecology in the outdoors. A need-based scholarship is available. The summer program offers BIOL 242, BIOL 243 and courses in environmental science and geology.
The University of Chicago: Marine Biological Laboratory
During the Semester in Environmental Science at the Marine Biological Laboratory in Woods Hole, MA students explore global change and the biogeochemistry of coastal ecosystems.
Au Sable Institute
The Au Sable Institute offers field-based, university-level courses in the environmental sciences during the summer to educate students to serve, protect and restore God's earth. Au Sable courses are taught at campuses in the Great Lakes region (Mancelona, MI), Pacific Northwest (Whidbey Island, WA), and Central America (Vara Blanca, Costa Rica).
Shedd Aquarium
While enrolled at Wheaton, students can take Fresh Water Ecology in the fall semester or Marine and Island Ecology in the spring semester through the Shedd Aquarium. The spring course concludes with a nine-day field research excursion to the Florida Keys aboard Shedd's research vessel.
Other Domestic Experiences
The BHS Department has information about off-campus internships that provide practical, professional experiences for Biological and Health Sciences majors. Students can spend summers or semesters at off-campus sites and experience what is really involved in working in research labs, clinics, environmental agencies or other sites in which a student with a liberal arts degree in biological and health sciences could serve after graduation. Through this experience they gain both a clearer vision for careers they can pursue, and increased confidence that they have been well prepared for the options that await them.
Below is a brief list of where our majors have participated in off-campus internships recently.
Medical/Molecular
University of Nebraska Medical Center
Harvard
Loyola
University of Chicago
Argonne National Laboratory
Purdue University
Kansas State University
Environmental
Morton Arboretum
Smithsonian Environmental Research Center
Study Abroad Experiences
HNGR (Human Needs and Global Resources)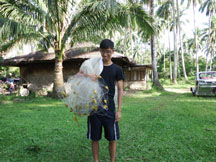 The HNGR Program includes a 6 month experience, usually in a foreign culture, in which the student works with an on-site agency. The student also carries out an individual research project that is mentored by a member of the BHS faculty. The faculty member makes a visit to the student at least once during the period of the HNGR internship. Biology students have interned in such locations as Bolivia, Ecuador, Ethiopia, Honduras, India, Côte d'Ivoire, Ivory Coast, Nicaragua, Peru, Philippines, Tanzania, and Thailand with the following organizations:
Shalom Delhi (Delhi, India): HIV/AIDS Palliative Care Program

Vida en Abunduncia (Xalapa, Mexico): Health education, clinic

Emmanuel Hospital Association (Landour, Herbertpur): Public health, Maternal Health, Surgery, Ophthalmology, Dentistry, General Medicine, etc

ECHO (Arusha, Tanzania): Species conservation, sustainable agriculture

AROCHA (Trujillo, Peru; Accra, Ghana): Agroforestry, climate change

Fundacion San Lucas (Jinotepe, Nicaragua): Sustainable agriculture, nutrition education, water resource development
Contact the HNGR office for further information: 630.752.5199 | hngr@wheaton.edu
Global Programs and Studies (GPS)
Global Programs and Studies offers approved* semester study abroad programs where BHS Majors can study in their academic area of interest:
*Federal, State and Wheaton Financial Aid may apply to approved GPS programs.