Student Staff Positions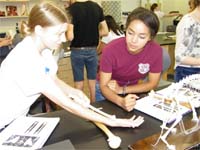 Positions in the Biological and Health Sciences Department help students to develop leadership skills by growing in their knowledge of their field, acquiring hands-on experience, participating in teaching labs, joining in a weekly pre-lab meeting and working closely with faculty and fellow students.
The BHS department employs thirty to thirty-five students each semester. Most students work as paid teaching assistants, but student employees also manage the greenhouse, care for research organisms and aquarium fish in display tanks, wash glassware, and help with administrative duties in the department.
For students with a career interest in teaching biology, working as a teaching assistant can provide them with valuable practical experience. Teaching assistants spend between six and ten hours a week working closely with instructors in introductory and upper level biology courses. Their responsibilities include setting up for lab courses, working closely with professors, helping during classroom instruction, grading assignments, and being available to answer students' questions outside of class.
The Department offers such positions as:
Teaching Assistants (TAs) in labs
Peer Tutors
Lab Prep Assistants
Greenhouse Assistant
Animal Room Assistant
Fish/Hydroids Assistant
Applications are accepted in early November for Spring Staff Positions and early April for Fall Staff Positions. (Summer positions are also available)
For Further Information on Student Staff Positions and job descriptions:
Contact: Coreen Ogilvie, Biology Lab Associate,
coreen.ogilvie@wheaton.edu
Symbiosis, a Student-Run Organization
Get involved and join Symbiosis which enables students to develop leadership, organizational, and interpersonal skills. It informs faculty of student perspectives, serves fellow students (providing peer insights on matters such as curriculum, jobs and internships, and preparation for graduate, medical, and professional schools), and fosters community through social and educational activities.