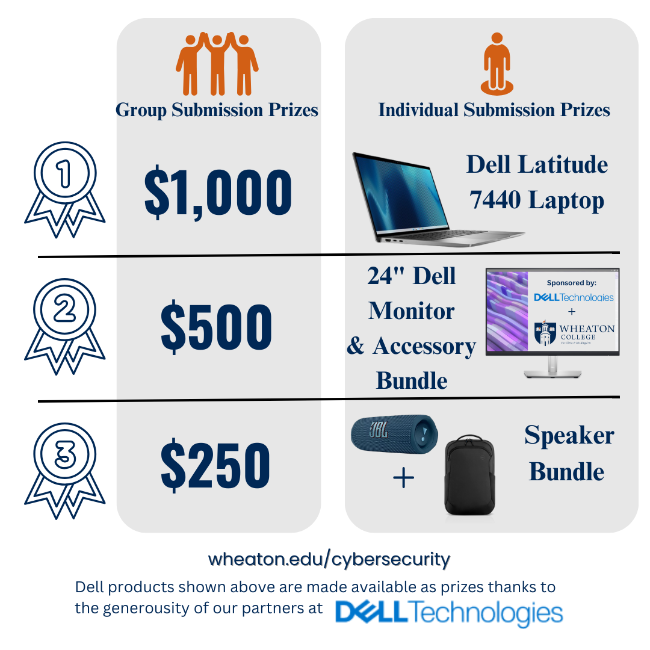 FAQ's:
Who is eligible to participate? This contest is open to all current graduate and undergraduate Wheaton College students.
Can I submit more than one video? Yes! Be sure to complete a new jotform for each submission (see guidelines below for instructions on how to submit your videos)
How are winners selected? A judging committee will vote on videos submitted using the Contest Judging Rubric during the week of November 20th. AIT will announce the winners by November 30th.
I won! How do I collect my prize? AIT will be contacting you using the information submitted on your entroy form to ensure you receive your prize.
My friends and I submitted a video as a group. How does it work if we win? AIT will contact each person based on the information entered on the submission jotform. Prize money will be divided evenly among all members of the group.
My student organization submitted a group video. If we win, can the prize money go to the student organization's budget? Yes, if you win a group submission and you designate an official Wheaton College Student Club or Organization on your group submission form, we can transfer the money to that budget.
QUESTIONS? Email us! academic.institutional.technology@wheaton.edu
Submit your video by completeing these two steps:
Post video on Instagram; tagging @Wheaton_AIT
Complete the appropriate form for your submission
---
Video entries should be 30-90 seconds in length and must be original work
Entries will be accepted through 11:59 PM CST NOVEMBER 13th, 2023
A Wheaton College Wheaton College Media Release Form must be completed for each person distinctly featured or involved in the production of the video
By submitting a video entry, the creators authorize use by Wheaton College as part of our cybersecurity awareness campus efforts
All video content must be align with Wheaton College's including

mission, Statement of Faith and Community Covenant
A committee will vote on winning videos during the week of Nov 20th using thisContest Judging Rubric
AIT will announce the winners by 5:00p CDT on Nov 30th
Video content must NOT:
Promote illegal behavior
Discriminate against or support individual prejudice towards others along ethnic, racial, religious, or sexual grounds
Invade the privacy of any person
Use inappropriate or obscene images or language
Violate the

Wheaton College Community Covenant
This contest is open to all current graduate and undergraduate Wheaton College students.
---
QUESTIONS? Email us! academic.institutional.technology@wheaton.edu
Email security (best practices)

Phishing

(what is it? how to spot it)

Social Engineering

Password security/safety

Password best practices

What defines a good password

Password managers

Cyber apocalypse (what can happen, horror stories if we DON'T follow best practices)

Ransomware (what can happen)

Cover the personal, campus, and community risk/negative impact

Career

What it's like to be a cybersecurity professional (general and/or within Wheaton College)

Be the SHIELD (Cybersecurity as a career)