From the President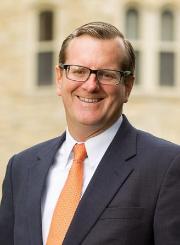 Dear Parents,

Last weekend over 1,100 alumni and their families returned to reconnect at Homecoming, cheered Wheaton Thunder athletic teams, explored the newer buildings, experienced the vibe of the student-run Coffee House in Lower Beamer, enjoyed the Homecoming Choral Showcase, and dined with their classmates.

Returning for her 25th year reunion, Ghanaian-born Dr. Phyllis Nsiah-Kumi '94, addressed students at Friday's Chapel about her calling to the medical field, and how her identity in Christ has served as a cornerstone in navigating life's difficulties, including the recent loss of her father.

The College remembered and honored the late Rodney Sisco '84 (1962-2018) as Alumnus of the Year for Distinguished Service to Alma Mater. For 34 years, Rodney shared his gifts of patience and grace, encouraging thousands of Wheaton students, alumni, faculty, and staff as he embodied Christ's love for people of all backgrounds, inspiring them to join him in the work of reconciliation.

We praise God for alumni like Phyllis and Rodney, who exemplify the kingdom values we pray the Holy Spirit will develop in all our alumni.

In Christ's service,




Philip Ryken
President
Family Weekend 2019
Family Weekend is all about spending time with your student and doing the things they love to do. That might mean sipping a Pumpkin Spice Latte from Sam's while taking a walk across campus to enjoy the burst of fall colors, or it might mean attending one of the many Family Weekend events. Regardless, don't miss the opportunity to spend time with your student and his or her friends! Register your family's attendance today! Registration closes on Friday, October 25.

Note: Just a few tickets remain for the President's Prayer Breakfast on Saturday, November 9, 9 – 10:30 am. Visit the registration page to purchase tickets.
Alumni Association Student Scholarships
Every year, the Alumni Association Board of Directors awards merit scholarships to a select number of juniors for their senior year. Applications are available online. Completed applications must be returned by Monday, October 28, 2019, to the Alumni and Parent Engagement office. Award winners will be announced at spring Convocation. Applicants will be chosen on the basis of academic achievement, campus/community involvement, spiritual growth, understanding of life mission, and future plans.
Taco Tuesdays
What do tacos, guacamole, and young alumni have in common?

They are all part of the Center for Vocation and Career's (CVC) Taco Tuesday series to help students explore possible careers. This is just one of the many programs offered by the CVC to help students explore a wide range of careers.

Nearly a dozen Tuesdays throughout the school year, we host a taco dinner with all the toppings for up to 40 students and five or six young alumni who join us in person or virtually.

Now in its fifth year, this year's Taco Tuesdays will feature careers in:
Big Brands
Consulting
Competitive Scholarships and Fellowships
Creatives
DC jobs
Entrepreneurs/Start-Ups
Finance
Marketing
Non-Profits
Non-Medical Health Care
Sales/Business Development
Word Artists
Whether your student is laser-focused on a specific career or still exploring his or her options, a Taco Tuesday can be a great venue for them to learn more about the many ways they can serve Christ and His Kingdom.
Wheaton College Graduate School
The Wheaton College Graduate School is pleased to announce that the School of Psychology, Counseling, and Family Therapy has partnered with the M.A. in Humanitarian and Disaster Leadership to offer a 9-credit Trauma Certificate. As the need for Christ-centered, trauma-informed care increases, parents and alumni with graduate degrees in mental health-related disciplines, pastoral care, or humanitarian aid, may consider pursuing these valuable credentials, which are conveniently available in a choice of residential, hybrid, and online formats.

To learn more about the Wheaton College Graduate School, including our many accelerated M.A. programs available exclusively to Wheaton undergraduates, consider attending one of our upcoming on-campus fall receptions, or join one of our new online information sessions. This month's featured online information session will welcome Kenneth T. Wessner Professor of New Testament Dr. Doug Moo, who will share about our ongoing evangelical commitment to "Scripture at the Heart of it All."

As always, we gratefully welcome your ongoing prayers for our growing graduate student community. To get a glimpse into our global community of servant scholars, read this story about Billy Graham Center Scholarship recipient and student in the M.A. in Biblical Exegesis program, Georges Kingue (Cameroon).
Birthday Boxes
The Office of Christian Outreach (OCO) encourages all parents to celebrate your student's birthday by sending them a Birthday Box (see image). Birthday Boxes are a great way to surprise your student on their special day. By purchasing a Birthday Box, you support the work of the OCO as they fundraise to send Wheaton students on service and ministry experiences around the world, where they love others and share the gospel. Our goal is to raise $15,000 through the Birthday Box Fundraiser. Join the OCO story today by participating in God's redemptive work of the gospel through your giving.
Refer a Student Program
The Admissions office extends a warm welcome to first-year and transfer parents who are new to the Wheaton parent community! It was a pleasure to work with your students this past recruitment season. Soon enough, you'll begin to see the many ways that Wheaton prepares your sons and daughters for Kingdom service as they grow in wisdom and in stature, in critical thinking, writing, leadership, and cross-cultural understanding.

Parents have an opportunity to help identify future student generations whom God will call to Wheaton. We value your opinion and invite you to join us in the recruitment process by referring prospective students at wheaton.edu/refer. When you do, an Admissions representative will connect with your referral and let them know of your recommendation (unless you share in the comment box that you wish to remain anonymous) and, we'll send you a thank you gift for the referral!
How can you pray for Wheaton this month?
Give thanks for the beautiful fall weather that has lifted and sustained spirits as students and faculty head into the final week of classes before Fall Break. Pray for grace and strength for students who face mid-terms or finals at the end of the Quad. Pray for peace and perspective on their learning.
Pray for the Lord's protection over students, faculty, administration, and staff in the intensity of everyday life at Wheaton. Pray for wisdom to know how to order our days before the Lord and follow His lead.
Pray for preparations underway for Family Weekend on November 9-10. Pray for safe travel and encouraging connections for parents, students, and family members.r her own personal story to campus. Pray that each one will experience the Lord's peace.
With thanks for your involvement and prayers,
The Wheaton College Parent Engagement team