Beloved theater event performed in revamped Memorial Park Bandshell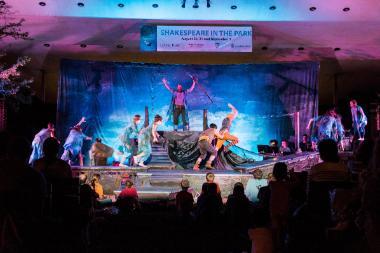 A tale of politics and transition of power, of succession and rebellion, fierce battles and comedic interludes: Henry IV: Part I comes to Memorial Park. After a two-year hiatus, Wheaton College is once again staging Shakespeare in the Park on Thursday, August 26, Friday, August 27, and Saturday, August 28, but for the first time ever bringing one of Shakespeare's histories to the stage.
Shakespeare in the Park is a regular performance presented free of charge to the public by the Wheaton Park District and Wheaton College's Arena Theater.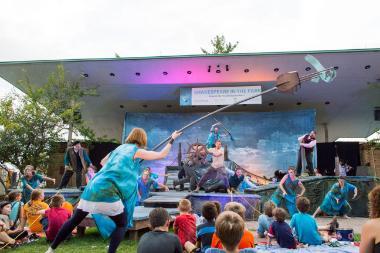 "We are excited to be back this year after our extended break, and really excited to be in the new park," said Andy Mangin, Wheaton College Assistant Professor of Theater and Communication, who is directing the play. "We have pretty much made our way through Shakespeare's comedies over the years. This year we branch out into something a little different with a history. The play includes one of Shakespeare's most famous characters, Falstaff. It is an interesting look at power within a kingdom and asks some good questions about succession and responsibility … and it has sword fights!"
Alumni who are professional actors will fly in from New York, Texas, and Pennsylvania to act alongside current students in the play's three performances. Experts in costume design, set design, sound, and lighting will also bring the story to life, as will a handful of percussionists who will provide most of the play's music. This year Wheaton is hiring a fight choreographer—a first in Shakespeare in the Park history—to train the actors in sword fighting.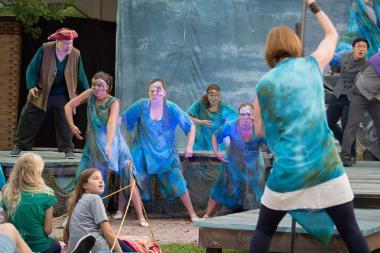 Also making its return is the crowd-pleasing puppet show, which introduces the audience to the play's characters and plot points. The puppet show starts at 6:45 p.m.

The free performance of "Henry IV: Part I" will be performed on Thursday, August 26, Friday, August 27, and Saturday, August 28, at Memorial Park (225 Karlskoga Ave.). Seating opens at 6 p.m. and the performance starts at 7 p.m. Limited bench and chair seating is available. Guests are encouraged to bring lawn chairs, blankets, and picnics, though onsite concessions will be available with the proceeds benefiting the DuPage County Historical Museum.

--Emily Bratcher

Photos copyright Art Cigoy_Central DuPage Camera Club

Learn More about Arena Theater