Brent Etzel comes to Wheaton College with more than 20 years of experience in university library systems and plenty of ideas for Wheaton.
Brent Etzel was destined for a career in libraries. His love of reading started at the age of seven when he followed the pennant race between the Yankees and his beloved Orioles in the pages of the Baltimore-Sun. He's been reading ever since.
Starting August 2, Etzel will join Wheaton College as the Dean of Library and Archives.
"I have always respected Wheaton College, and I'm very familiar with the many famous alumni from Wheaton," said Etzel. "This role is the coming together of a lot of things I've done in the past."
After working in Christian higher education for many years at Cedarville University, Etzel became the Library Director for Arkansas Tech University—a position he enjoyed for nearly seven years.
When the position at Wheaton College came open, he was excited to apply since he holds the institution in such high regard. "It's so much easier to have a unifying philosophy of education at a Christian institution," Etzel said. "I think everyone at Wheaton College agrees in Christian truth. We are created beings, and we have an all-powerful God. Christ is our Savior. Those are the things that we begin with, and that's exciting. There's a greater sense of unity."
As Dean of Library and Archives, Etzel will have administrative authority over Buswell Library, the Wheaton College Billy Graham Center Archives, and the Marion E. Wade Center, which Etzel describes as "an honor."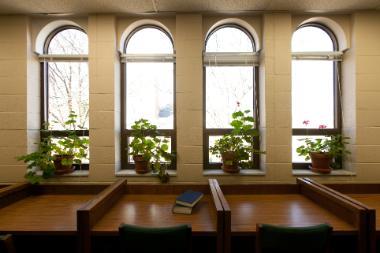 Etzel believes that libraries act as a meeting place on college campuses. They unite students for projects, but they also offer a safe haven for students who want a change of scenery from their dorms or apartments.

"What makes a library special is that there are resources available beyond what's available through the internet. Books are still relevant," he said. "How we can position ourselves as librarians so that students will want to come in and use our resources?"

In fact, Etzel was known to skip classes during college just to hang out in the library and research topics that interested him. Although he doesn't want students to follow in his footsteps in that regard, he admitted that it was in those moments when he realized he could pursue a career in helping people find resources and conduct their own research.

"I love being in an educational environment. There's much joy," said Etzel. "And I feel quite comfortable saying that libraries continue to be relevant because of the depth and breadth of information and the different ways it's communicated through resources."

When he's not in the library, Etzel enjoys long-distance running. He says he aims to complete at least one half-marathon per year. He has also been teaching himself Dutch and Spanish for the past five years. And although the COVID-19 pandemic squashed plans to travel to Eastern Europe, Etzel hopes to resume traveling to that part of the world and conducting service projects with libraries there again soon.

Etzel holds a master's degree in library science from Indiana University, a master's degree in history from Illinois State University, and a bachelor's degree in political science from Franklin College. He has been a librarian since 1997, becoming a college librarian in 2000.

--Alexandra Shimalla

Buswell Library