Louise Wallis M.A. '20 describes how her M.A. in TESOL and Intercultural Studies degree made an immediate mark on the language school she runs in Cambodia.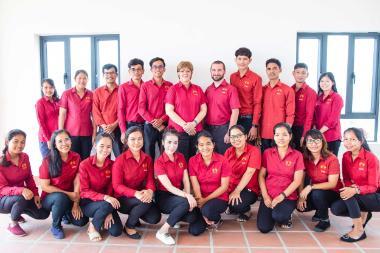 Four years after starting Gateway to Khmer (G2K), a language school in Phnom Penh, Cambodia, Louise Wallis went back to school for her M.A. in TESOL and Intercultural Studies from Wheaton College.
"It has been a wonderful experience and my work at G2K has certainly benefitted greatly," said Wallis, who just graduated in December. "I have seen an immediate impact as a result of my studies over the last two and a half years."
After years of teaching TESOL in Spain, Poland, and the UK, Wallis, who hails from London, moved to Phnom Penh, Cambodia and opened G2K in 2015. The school teaches the official language of Cambodia to professionals from more than 35 different countries, including Australia, Canada, Mongolia, Egypt, and Brazil.
But in the last few years, Wallis, who was using TESOL principles to teach Khmer, was wondering whether she was on the right track? Were there areas that G2K could be improved?
That's when Dr. Lonna Dickerson, the former director of Wheaton's Institute for Cross-Cultural Training and who'd become a mentor encouraged Wallis to consider the M.A. in TESOL and Intercultural Studies. Wallis—who was already so busy training teachers, managing the budget and school schedules, meeting with staff and board members, among other responsibilities—hadn't ever considered a master's degree.
"I never thought that as a British person that I would even think to study in America, and I certainly didn't have the finances in order to do that," she said. "But I was encouraged to apply for a Wheaton scholarship and ended up getting one, which came to me out of the blue and as a complete gift."
Plus, it turned out that the TESOL Flex program, which offered a combination of in-person and remote learning, was a great fit, in allowing her to do some of the program from her home in Cambodia.
Although juggling a full-time work schedule with classes remotely was difficult, it was also energizing. The times she was able to get away to Wheaton's campus in the summer or the school's Chiang Mai outpost during the month of January for in-person classes were absolutely invigorating, she said.
"I was just really in my element," Wallis said. "It was just quite a treat to be around people that talked my language."
Wallis said the program also provided a lot of practical tools she directly applied to her work at Gateway to Khmer. For instance, her assessment and curriculum classes with Dr. Alan Seaman enabled her to create a student placement test and two new courses. Her research class with Dr. Cheri Pierson allowed her to evaluate her teacher training program, while her reading and composition class with Dr. Pam Barger inspired Wallis to write new recommendations for teaching Khmer literacy.
Beyond the practical tools, Wallis said she is grateful for the personal and professional encouragement and affirmation she received at Wheaton.
"I am grateful for the opportunity to learn from the department at Wheaton and also for the personal and professional encouragement I have received, affirming that what I am doing makes sense," she said. "It has been a lonely path here in Cambodia so it has been great to share the journey for a while."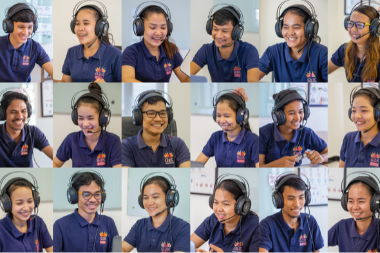 Soon after receiving her master's degree, Wallis welcomed 100 new students to G2K's newly developed virtual learning program. Moving G2K online in the last year because of COVID was difficult, but remarkably, the online format has enabled G2K to connect with a broader base of students, including the children and grandchildren of those who fled the country during the reign of the Khmer Rouge and had lost their mother tongue or never learned it. "It's just beautiful that we can be a part of restoring parts of their identity that were lost," she said.
"That's been an unexpected gift," she said, adding that her entire graduate school experience was a gift as well.
"I really do believe it was God's provision because he wanted to grow G2K and improve it and it was His way of developing the school and blessing me at the same time, which was lovely," she said.
--Emily Bratcher