Blake Rittgers is a current Vanguard Gap Year student at HoneyRock. He shares his experience in the Modern Global Literature seminar, led by Dr. Tiffany Kriner.
Vanguards returned from winter break on January 2nd and were delighted to start the second session of their Modern Global Literature class with Dr. Tiffany Kriner the subsequent Monday.
To stay COVID-safe, the class met in the large HoneyRock Chapel, with Vanguards only sitting with their roommates. This setup created the perfect environment for brief small group discussions that were able to spur the class into large discussions about various assigned texts.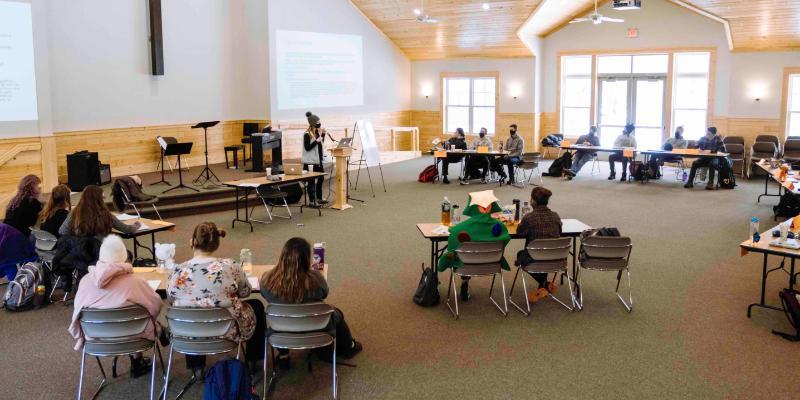 We participated in the first seminar of the ENGL-115 course with Dr. Kriner at the end of the first semester and after this week, will have two more sessions in February and March. The class is broken up into multiple sessions to balance HoneyRock's schedule of work and academics, as well as being accommodating to Dr. Kriner's busy itinerary. This is just one of the multiple classes that Vanguards will be earning college credit for during their year at HoneyRock!
So, what has this January course entailed?
In this month's week-long intensive for Modern Global Literature, Vanguards spent Monday through Friday with Dr. Kriner. We read Wheaton College's Christ at the Core book The Plague by Albert Camus during their winter break. This was to prepare for thoughtful discussions on the book's themes, characters, and literary devices. Throughout the week, the class also went through multiple short stories like "Bartleby, the Scrivener" by Hermann Melville, and a few poems like Gwendolyn Brooks' "God Works in a Mysterious Way". Given the wide array of literature read in the class, we were able to explore what types of written works we enjoyed the most.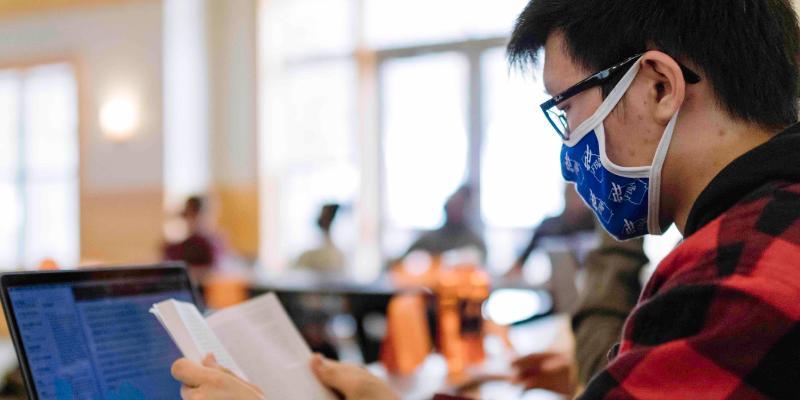 One Vanguard, Isaiah Carlson, commented on his enjoyment of reading short stories, saying: "They always provided engaging plots and themes that made me think deeply about their meanings, while at the same time being bite-sized and easier to fully soak up."
Another Vanguard, Owen Rittgers commented: "Since high school, I've really only enjoyed reading non-fiction, so thinking abstractly about literature has been quite foreign to me. However, I've been opened to the true development of the human mind that can occur when reading works like The Plague."
The class sessions were mostly broken down into brief lectures, long discussions, and free time to complete assigned readings and analyses.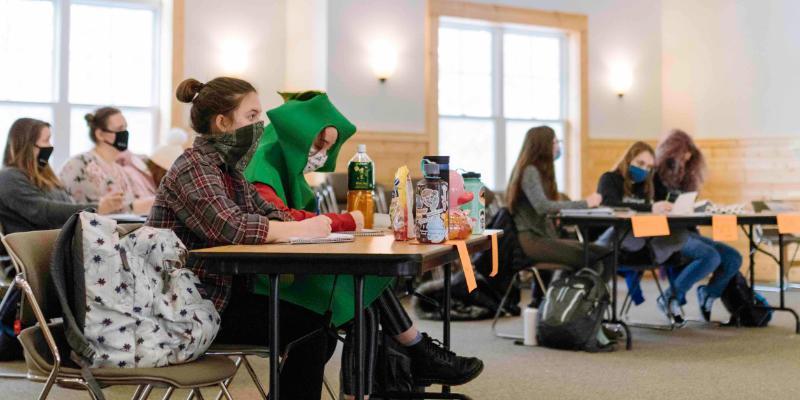 This class was a great way for Vanguards to become acquainted with liberal arts instruction. Along with the upcoming sessions, it has also provided a taste of what classes at Wheaton could feel like.
Modern Global Literature has been yet another means of familiarizing Vanguards with Wheaton faculty, as has been custom for the gap year program. Dr. Kriner, the fourth Wheaton professor to make the trek up to the Northwoods this school year, has been highly involved in instructing Vanguards in Wheaton classes. Many of us commented on her enthusiasm and passion in class creating a sense of ease in the tough course.
Vanguards will be looking forward to the next session in their Modern Global Literature class, which will meet at HoneyRock in February. Until then, we'll be working their way through Chimamanda Ngozi Adichie's award-winning book "Purple Hibiscus". – Blake Rittgers, Vanguard '21