Wheaton History Professor Dr. Karen Johnson was awarded a grant from the Calvin Institute of Christian Worship.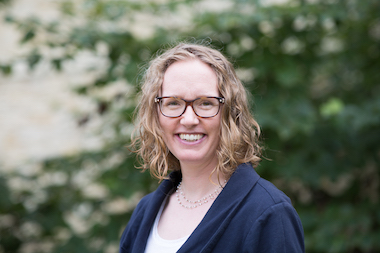 Associate Professor of History Dr. Karen Johnson was awarded the Teacher-Scholar Vital Worship Grant from the Calvin Institute of Christian Worship. Johnson will use the $18,000 grant to fund her research and eventually a book on how Christians have worshipped together across racial lines historically—and the lessons they've learned along the way that might help churches work for racial justice and foster reconciliation in the present.
The grant will fund two chapters of Dr. Johnson's book project— the history of integrated worship at Rock Church of our Salvation Evangelical Free Church in Chicago and the 1960s and 1970s ministry work of John Perkins, the famous Mississippi pastor, writer, and Civil Rights activist.
"The topic of race is heavy and it's painful," Johnson said. "In this book project, I'm looking for moments where people are pushing against what the overarching thrust of history is in terms of racial hierarchy in our nation and highlighting the positive ways that people brought their faith to bear in the church."
With the goal of fostering vibrant Christian worshipping communities through research that connects worship to other disciplines of study and practice, CCIW's Teacher-Scholar Vital Worship Grant is awarded to teacher-scholars across a range of disciplines, including theology, music, dance, sociology, and history, among others. This is the third time that CICW has awarded these grants. This year's class of awardees includes 17 teacher-scholars from seminaries, private colleges, and public research universities.
"Teacher-Scholars from a wide variety of disciplines have so much to contribute to congregations and parishes—helping us all see things we otherwise might miss, offering access to essential wisdom for ministry," said CICW Director John Witvliet. "We are grateful for each of these Teacher-Scholars and the promise of their work for strengthening congregational life."
Ultimately, Johnson's vision for the book project is that it will help readers to not only learn about the past but from the past, as a way to live out reconciliation in their own church contexts. "My hope with this book project is that the church would be renewed and strengthened," Johnson said.
Dr. Karen Johnson is an associate professor of history at Wheaton College, where she has been on faculty since 2013. She is the author of One in Christ: Chicago Catholics and the Quest for Interracial Justice, and she is currently co-editing a book for high school and college teachers titled Understanding and Teaching Religion in U.S. History.
--Emily Bratcher