Wheaton College senior Natalie Schuetz was recently recognized as a Student Laureate by the Lincoln Academy of Illinois for her excellence in academics and extracurricular activities.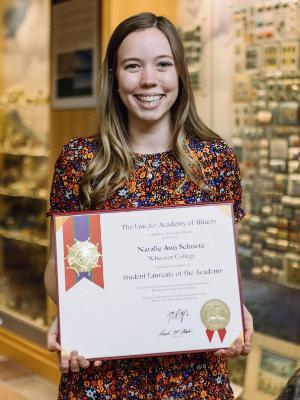 Wheaton College senior Natalie Schuetz was recognized as a Student Laureate by the Lincoln Academy of Illinois.
"I am honored and humbled to receive this award, my desire is to always give God the glory," Schuetz said. "My time at Wheaton has grown me in many ways spiritually and academically. I am truly blessed to be attending college here."
Each year since 1964, the Lincoln Academy of Illinois recognizes an outstanding senior from each of the state's four-year, degree-granting colleges and universities with the Abraham Lincoln Civic Engagement Award. The award comes with a $1,000 scholarship, a Lincoln medallion, a certificate signed by the governor, and the title of Student Laureate.
The Office of the Provost nominated Schuetz for her high level of academic achievement and involvement in extracurricular activities. In addition to majoring in Applied Mathematics and Business Economics, she is also pursuing a Master of Arts in Teaching through an accelerated program at Wheaton College's graduate school. She has also received Dean's List recognitions each semester at Wheaton, as well as multiple academic scholarships.
Professor of Mathematics Emeritus Dr. Robert Brabenec, who has known Schuetz for four years, calls her an "excellent mathematics major."
Schuetz is also deeply invested both on and off Wheaton College's campus with various organizations. She is currently serving as cabinet vice president for Wheaton's chapter of International Justice Mission, an organization she has served since her freshman year. She has also tutored refugee and immigrant children at a local elementary school through World Relief. In addition to leading campus Bible studies, she has also served as a member of the Student Alumni Board and a student worker in the Admissions Office.
"We have been involved together in activities outside the classroom such as the International Justice Mission campus chapter and also a writing ministry to support members of the Wheaton community going through difficult times," Brabenec said. "She has been involved for 4 years in attending a local church and serving in one of its ministries. She also received a scholarship in memory of my wife and is a great example of an individual who is deeply committed to academic excellence, spiritual values and service to others."
--Emily Bratcher