Elim Shanko will use her Mandela Rhodes Scholarship to study at the University of Pretoria in South Africa.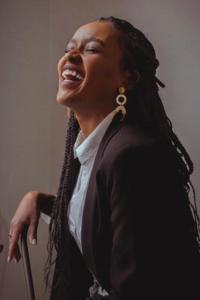 Wheaton alumna Elim Shanko '18 was recently awarded the prestigious Mandela Rhodes Scholarship. Administered by a legacy foundation of late South African antiapartheid political leader Nelson Mandela, the scholarship gives financial support for studies at a South African institution of higher education.
Shanko will use the scholarship toward a master's degree in Human Rights and Democratization in Africa at the University of Pretoria in Pretoria, South Africa.
"When I found out [about the scholarship], I was super excited," Shanko said. "I think I feel pretty overwhelmed by the opportunity, but also humbled by it."
An International Relations major while at Wheaton, Shanko said that the College provided a monumental foundation for her future opportunities including this scholarship. Her class on Authority, Action, and Ethics in Ethiopia was especially formative. Visiting Professor Dr. Andrew DeCort taught the class and asked students to consider themes such as the Christian mandate when it comes to authority, action, and ethics; hospitality in heart, mind, and action; and accountability when it comes to harming the most vulnerable—concepts which have percolated in Shanko's mind ever since and informed her future work.
Shanko, who is Ethiopian, said she also enjoyed learning more about the history and people of her country. Following the course, Shanko and some of her classmates traveled to Ethiopia, where they interviewed everyone from an attorney to an ex-gang member. The experience was life-changing, Shanko said.
"The interviews were for the purpose of us practicing the posture of learning," she said. "Dr. DeCort taught us that each individual has the capacity to teach her something new and when we suspend our judgment we are granted with an opportunity to be brought into the world of someone we never previously understood or knew."
Her relationship with her College advisor Dr. Michael McKoy, a Politics and International Relations professor at the College, was also influential.
"Elim is courageous and unafraid to challenge anyone in defending what she believes is right," said Wheaton College Associate Professor of Politics and International Relations Dr. Michael McKoy. "But unlike so many people, she knows how to do this while demonstrating love and respect, and I personally grew significantly as a teacher and advisor by getting to know her. I have said on more than one occasion that no single student has more influenced the way I teach than Elim. It's a strange thing to say you have been mentored by your student, but I would say that about Elim."
In addition to Dr. DeCort and Dr. McKoy, Shanko said that Emeritus Professor of Philosophy Dr. Cliff Williams and Assistant Professor of International Relations Dr. Tim Taylor were integral to her Mandela Rhodes Scholarship application process.
"As much as they were mentors and supports for me during my time in Wheaton they have also supported me beyond the four years of my time in Wheaton," she said. "I couldn't have been granted this opportunity without them.
During her time at Wheaton, Shanko also participated in the Human Needs and Global Resources program, through which she had the opportunity to work and study in Peru. In addition, she worked as a Resident Assistant for McManis-Evans Residence Hall and as a board member for College Union.
After graduating in 2018, Shanko worked as a family reunification specialist at Heartland Alliance. Later, she took a role at Charles Schwab as a digital product manager where she also spearheaded an anti-racism initiative, for which she received an award. In 2020, she applied for the Mandela Rhodes Scholarship, which she will use toward her master's degree starting in January 2022.
The scholarship provides full tuition funding and a stipend for academic supplies and conference, research, and living expenses. In addition to the honor of being named a Rhodes scholar, Shanko said she is thrilled to learn from the leaders of the Nelson Rhodes Foundation and the cohort of 29 other scholars.
The Mandela Rhodes Foundation is among Nelson Mandela's three legacy organizations, the purpose of which is to build exceptional leadership capacity in Africa. The foundation aims to offer a life-changing opportunity for personal growth via a prestigious postgraduate scholarship and leadership development program for those who want to use their talents in service of Africa.
To date, the foundation has awarded 588 Mandela Rhodes Scholarships. This year, Shanko is among a class of 30 students from around the world who have received the scholarship.
--Emily Bratcher