Posted June 9, 2022 by Academic and Institutional Technology
Tags: Department News
eduroam Wireless Update
Effective Date: June 15, 2022
Beginning on Wednesday June 15th at 12:00 noon, AIT will be installing new Wi-Fi digital certificates. After that installation, you may see a pop up asking you if you want to trust this certificate. Please go ahead and "trust" that certificate, when prompted.
Key Benefits and Features
Keeping your data safe on eduroam wireless
Impact on College Community
Next time you connect your device to eduroam, you will want to accept the pop up. This update is part of our ongoing effort to keep our campus safe. We encourage you to be vigilant about cybersecurity, which is why we wanted to let you know about this change.
You may be prompted to login again after "trusting" the Wi-Fi. Feel free to do that with your Wheaton College email address and password.
Examples of pop up's based on device.
Windows 10 - Click "Connect"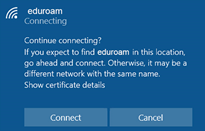 iPhone & iPad - Click "Trust"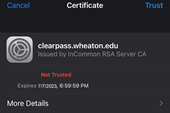 Mac - Click "Contimue"

You can read more about these types of popups here if you are interested in some of the technical aspects.
If you have any questions, please contact us at ait.service.desk@wheaton.edu or call 630.752.4357 (HELP).