Posted March 15, 2021 by Academic and Institutional Technology
Tags: Department News
Annual Cybersecurity Training Begins on March 22
Effective Date: March 22, 2021
Wheaton College's annual cybersecurity training will be assigned to all employees on Monday, March 22, 2021. Employees will have three weeks to do the training, and it should take 30-45 minutes to complete. We'll be using SANS Security Awareness training, hosted by Litmos.
Be on the lookout for an email from the AIT Service Desk on March 22 with the subject line: Wheaton College Cybersecurity Training Information.
This year it should be easier than ever to sign in for the training, thanks to the Online Passport with Duo Two Factor Authentication! We will set everything up so that you can use your Wheaton College NetID and Password to access the system, which should make it that much simpler.
Special note: Always use the link from the email you received on March 22 in order to access the training. Do NOT bookmark the page, as bookmarking will not work. You can also get back to the training by using the link from this page.
Here is what the interface will look like, below.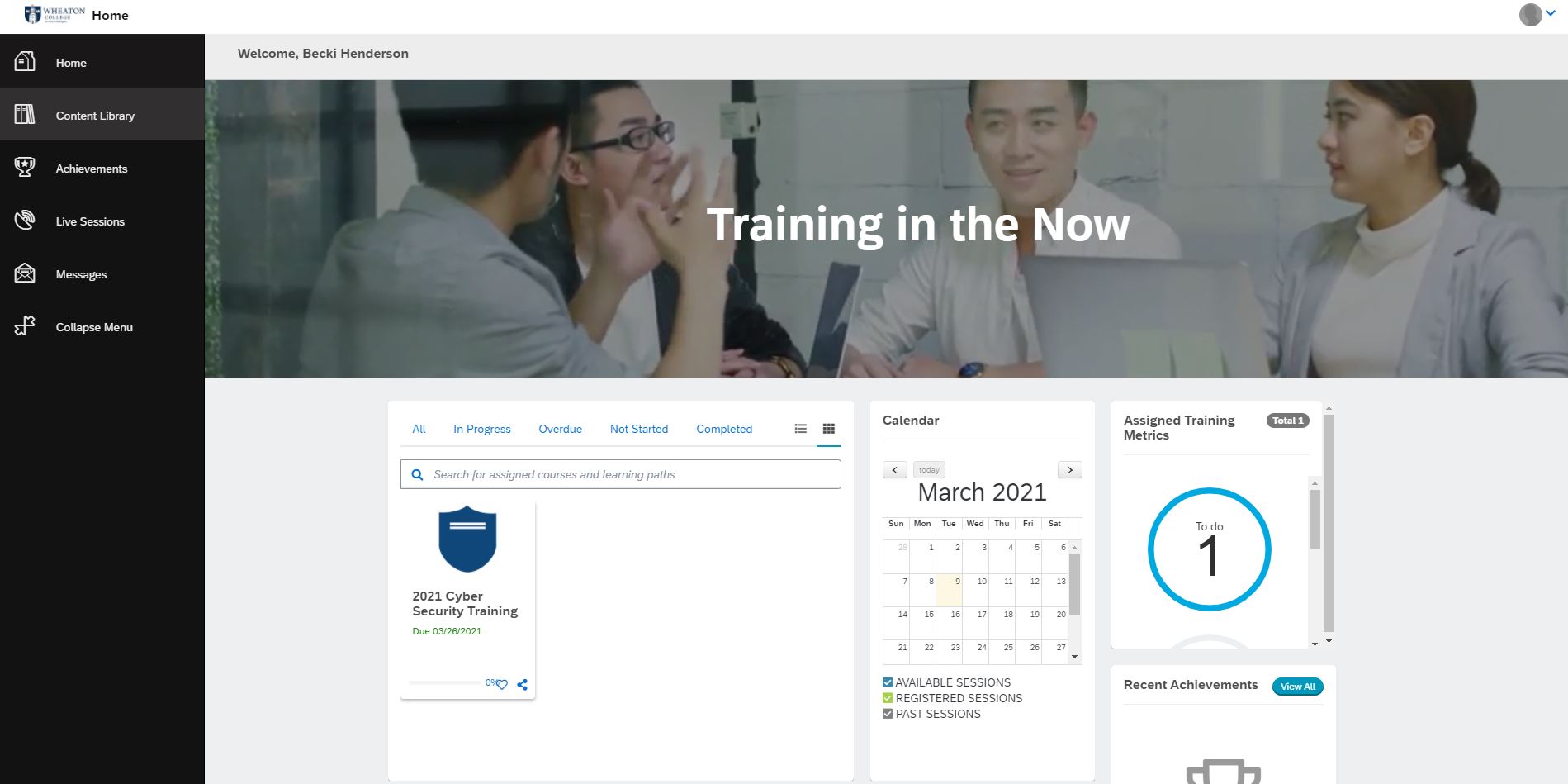 Employees will have 8 modules to complete. Reminders will be sent to employees during the training period and managers will be cc'd on reminders when training is overdue.
Your completion of the training will help ensure the security of our college data, your personal data, and the personal data of the students we care for.
Key Benefits and Features
Training our employees is one of the best ways we can protect college data!
There is a new updated user interface to use.
After completing the training, employees will be more prepared than ever to recognize and avoid phishing scams and other nefarious online activities.
Impact on College Community
Every employee must take time between March 22 and April 9 to complete this training. The modules can be completed at any time during the three weeks, even in small segments. Each one is only a few minutes long and most of them are followed by short quizzes.
You will be able to choose your preferred language (out of thirty options). Special note: I chose "English – UK" in hopes the host would have a fun British accent, but alas, they still had an American accent.
When you finish a module, you will be prompted to begin the next one. As you progress the "counter" will show you the percentage of how much you have accomplished.

In addition to required modules, there are over a dozen optional ones. We would encourage you to look through the optional modules and watch any that are of particular interest to you. It should be clear to see which modules are optional. The modules circled in red below are required, and the ones with the word "optional" circled in blue are, indeed, optional.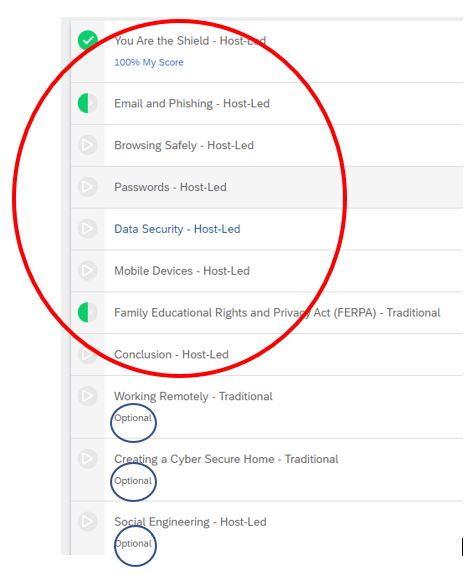 If you have any questions, please contact us at ait.service.desk@wheaton.edu or call 630.752.4357 (HELP).