Posted January 12, 2021 by Academic and Institutional Technology
Tags: Department News
Launch of New "Online Passport" to Simplify Access to Wheaton's Online Resources
Effective Date: January 22, 2021

AIT is launching a new authentication tool we are branding as the "Online Passport" to improve how we log into the many technology systems across campus. The launch of the Online Passport is the first step to the implementation of a true Single Sign-On (SSO) environment at Wheaton College and will enable improved data security by allowing us to extend the use of Duo (the College's two-factor authentication system). AIT will be moving systems behind the Online Passport service one by one over the next few weeks. As systems are transitioned, they will move to the new Online Passport, where you will enter your NetID and password just one time. Employees will also be prompted for two-factor authentication with Duo.
On Friday evening, January 22, 2021, AIT will enable the Online Passport for the Wheaton Portal. Although the Portal itself is not changing, the login page will look markedly different. You will also come across this Online Passport authentication when accessing several other systems, such as Wheaton Answers, Follett, Handshake, and Proofpoint, just to name a few.
Key Benefits and Features
More protection of college data by Duo Two-Factor Authentication
Simplification of our Single Sign-On (SSO) options
Impact on College Community
The most important thing you'll want to know is that the new login page will look different! Here is what the current Wheaton Portal login page looks like, side by side with the new Online Passport login page:
Secondly, until we get all Wheaton College systems behind the Online Passport, you may need to log in twice, depending on which system you are trying to access. You will stop being prompted for this second sign-in when all systems have been successfully moved to the new Online Passport login page.
For faculty and staff, the Online Passport page is protected by Duo Two-Factor Authentication. If you sign into the Online Passport you will be prompted by Duo if you haven't recently selected Duo's "remember me" option. This Two-Factor Authentication will ensure that you are, indeed, the person trying to access the Online Passport.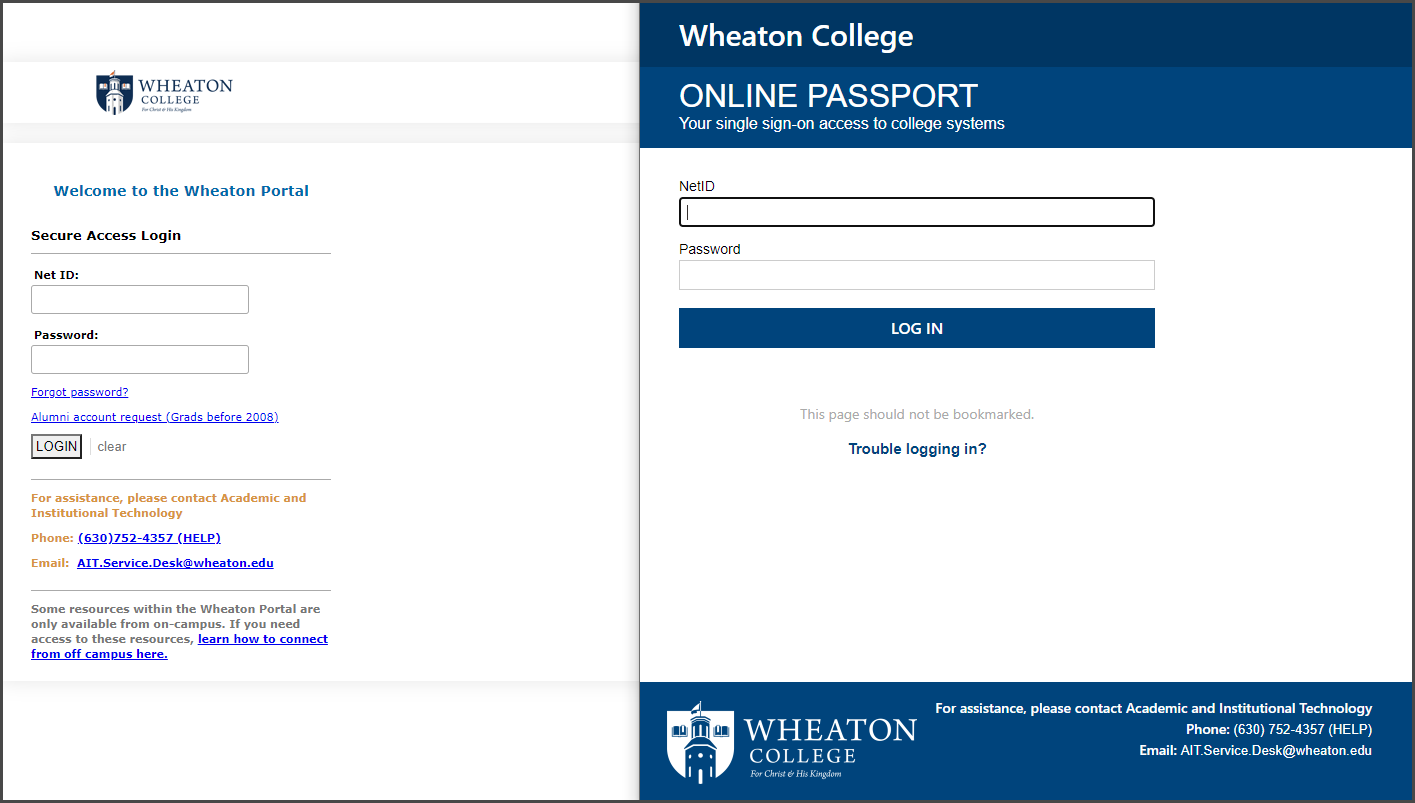 For those of you who may find an analogy helpful, here's a different (albeit imperfect) way to think about it. Consider all of the Wheaton College technology systems as being in a castle fortress. We want it to be easy for you, as an employee or student, to get to these systems. At the same time, we want it to be difficult for nefarious people to access these systems. In order to protect our systems, they are all behind a moat (authentication). With this change, we are making the Online Passport be the entrance/gateway/bridge to cross the moat to get to your systems. Now, you may come in the front gate (the biggest one that most people use—the Wheaton Portal) and you'll use the Online Passport to get in. But maybe you want to come in through a different entrance—the door to the kitchen, say, which is Banner, or the door to the stables, which is Wheaton Answers, or the door to the armory, which is Proofpoint. In that case, you could go directly to that page (or door) and get in by using the Online Passport. When you get to the door, you'll need to present your identification proving you're a citizen of our castle fortress (that'll be your NetID and password). For faculty and staff, you'll also pull out one other form of ID so we know it is really you (that would be Duo's Two Factor Authentication). Then you'll be allowed into the castle fortress to go about your business!
If you are interested in more of the "behind the scenes" aspect of this change, read on! Wheaton College has been using two different Single Sign-On systems. One did authentication via your wheaton.edu or my.wheaton.edu email address. The other one authenticated via your NetID and password. We've been working for months to slowly move more systems to the Online Passport (using your NetID). So far, we have put Wheaton Answers, Follett, Handshake, and Proofpoint behind the Online Passport, and we are working to put more applications there.
If you have any questions, please contact us at ait.service.desk@wheaton.edu or call 630.752.4357 (HELP).