Posted February 13, 2019 by Academic and Institutional Technology
Tags: Web Development
Wheaton Directory Going Live on Wheaton College Website
Effective Date: February 13, 2019
Marketing Communications (MarComm) and Academic and Institutional Technology (AIT) are pleased to announce the roll out of our new online directory, called the Wheaton Directory. We will be retiring Who's Who and replacing it with this integrated solution within the Wheaton College website.
Over the next few days we will be rolling out this new directory. It can be accessed via the Portal (which is highly preferred) or from the Wheaton College website (www.wheaton.edu/directory.)
Key Benefits and Features
Enhanced security as all student information is still behind authentication
Ease of access for constituents to search for faculty and staff by name or department
Impact on College Community
The current Who's Who will be retired. Going forward access for faculty/staff names, phone extensions, email addresses and departments will be found in this directory. Student names, pictures, email addresses and majors will be viewable behind authentication.
Here is how to use it the new directory:
Searching For Individuals by Name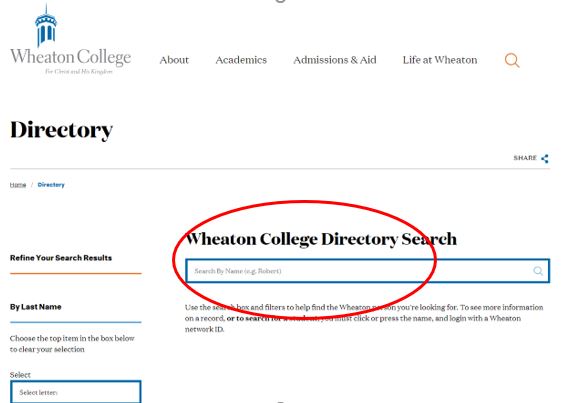 If you know a person's first or last name you can type it in the larger blue rectangle (circled above.)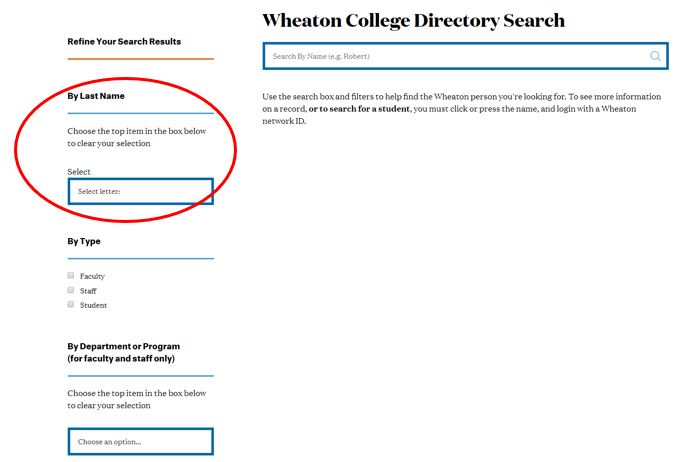 You can search by last name of staff by entering in a letter (for example, "J") and that will bring up all faculty and staff whose last name begins with "J." Note that if you are done looking for people whose last name begins with "J" you need to clear this box by choosing "Select:" which is the option at the top of the list.
Searching with Photos
By default if you are not logged in, directory results do not display photos. To see a directory listing with photos (as in the example below), you must first log in and be on the Wheaton network (or connected via VPN if off campus). You may log in using the "Staff, Faculty & Student Login" link at the bottom of the page. You will also be prompted to log in using your Network ID if you click on a person's name to view their profile page from the directory results.
Searching by Department
If you search by department, the faculty and staff will be listed alphabetically by last name. Note that when you are done searching that department you need to clear this box by choosing "Choose an option…" which is the option at the top of the list.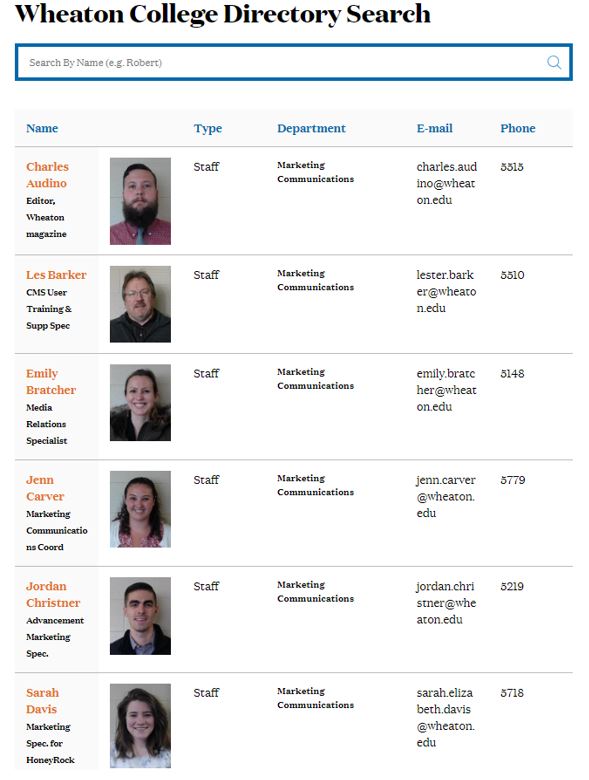 The following table shows what information is available to the public and what information requires a login to view.
| | Public | Requires Login |
| --- | --- | --- |
| Staff and Faculty Directory Listing Information | X | |
| Staff and Faculty Profile Pages and Photos | | X |
| Student Directory Listing Information, Profile Pages and Photos | | X |
Please note, if you do not like your picture in this directory, feel free to contact Public Safety in order to have your photo re-taken or to submit a better photo of yourself.
There will be tweaks along the way as we continue to roll this out; thank you for your patience as we work together to improve our campus directory.
If you have any questions about this transition, please feel free to contact the AIT Service Desk at ait.service.desk@wheaton.edu.